Police Nab Fake CP, DSP In Anambra
Featured, Latest News, News From The State
Saturday, November 22nd, 2014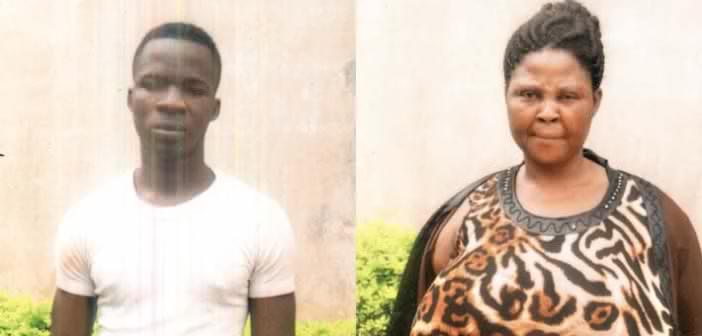 FROM IGNATIUS OKPARA, Enugu
Two suspects, a man and woman who have been parading them selves as senior police officers, as well as duping unsuspected members of the public, especially in Anambra state and environs, on Friday met their waterloo, as they were nabbed by detectives from the Special Anti-Robbery Squad SARS of the Anambra State police command.
Before their arrest in Nnewi, Anambra state, the man, identified as Israel Chukwukeme, had been going about posing as the Commissioner of police (CP) in Delta State, while the 43-year-old woman, Ada Eze claimed to be a Deputy Superintendent of police DSP.
Ada Eze was alleged to have duped several victims, promising to get them police auctioned cars from Delta state command, before they were rounded up at Nnewi, Anambra State by police operatives.
The Commissioner of Police in Anambra state, Mr Karma Hassan, who confirmed the arrest, told newsmen that the woman suspect, Ada Eze, has used her fake police identity card to dupe over 30 people in Nnewi.
According to the CP, some of her victims include Gabriel Azegba, who paid her N265,000 for an un-existing auctioned car and number plate; and Chukwuadu Eze, who also lost N35,000 to the suspect.
Ada Eze, had promised the victims that they would get the cars in October but later told them that the Commissioner of Police in charge of the auction had travelled to Abuja.
When the suspect came under so much pressure from her victims, she devised another strategy of always calling her partner in crime, the fake Delta CP, Israel Chukwuke­me, in the presence of them as a way of convincing the victims that the business was genuine.
It was gathered that whenever the fake DSP puts a call across to the fake Delta CP in the presence of the victim, he would in turn assure them that the auctioned cars would soon be released to them.
African Examiner learnt that it was one of the victims, identified as Onyebuchi Omeke, who suspected the voice of Israel Chukwuke­me, during one of the telephone conversation as a member of his church choir.
This made the suspects to report the case at SARS office where the officer in charge, James Nwafor ordered operatives to work on the syndicate.
The Detectives, it was further gathered, thereafter invited Israel for a church ministration the following day, and he showed up in the church and was picked up by the security operatives.
However, his arrest according to the police led to that of his partner Eze, on November 6 while both are now being detained in SARS custody in Awka, the Anambra state capital.
Confessing to the crime, Ada Eze said: "It is true that I have been falsely parading myself as a DSP, I also collected money from people, promising them that I would get them auctioned cars and goods.
"My husband is a police inspector who worked in Delta State Police Command, he was shot by armed robbers when they were taking a suspect to court.
"The other gang members laid ambushed for them and shot my husband to death in 2002 with other police officers. I didn't see my husband's corpse because the armed robbers carried away my husband's corpse till date.
"I have seven children for my husband and since he died in 2002, no help has come from the police or his family.
She added: "It was suffering that prompted me to turn myself to a fake police officer."
She begged for forgiveness from the police authority and called on the Inspector General of Police, Suleiman Abba, to intervene in the matter, saying her husband, the late Inspector Aloysius Eze, died in 2002 and that since then she has not gotten his gratuity or pension.
Also narrating how he got himself into the unholy business, the fake CP Chuk­wukeme said: "I went to Madam Eze's shop to drink and she called me that I should pose as CP Delta Police Command and should tell some people on phone that their auctioned cars and goods will soon get to them.
"I am a choir member in my church and it was when the victim suspected my voice, they called me to come and play for them in the church and I went there."
He added that when "my father heard that I have been arrested, he died on the spot, the very day I was arrested.
Meanwhile, the Anambra CP, has said that the suspects will soon be charged to court for impersonation and fraud.
Please follow and like us:
Short URL: http://www.africanexaminer.com/?p=19833