10 Killed, Several Injured In Multiple Insurgent Attack In Saudi Arabia
African News, Latest News, News
Friday, May 22nd, 2015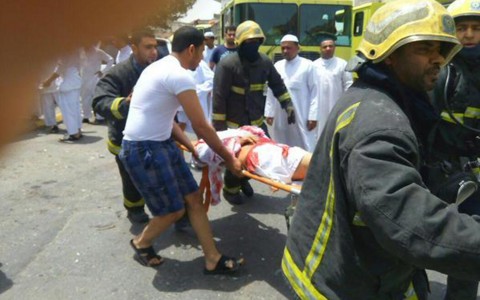 No fewer than 10 people were Friday killed in a suicide bomb attack in a Shia – Imam Ali mosque located in the Eastern Province of Saudi Arabia Kingdom.
A doctor at the emergency unit of Qatif Central Hospital confirmed at least 70 people were injured, with some severe cases.
Eye witnesses' account explained that a devastating huge blast erupted at the mosque in the al-Qadeeh village of Qatif.
The Friday bombing was the first of its kind in the Saudi kingdom and this had heightened tension between the two major rival Muslim faithful – the Sunni and Shia.
Earlier, the dreaded Islamic State (IS) has claimed responsibility for another attack on another Shia mosque in neighboring Yemen Friday, in which scores were injured.
Videos of shattered glass and debris inside the mosque, where scores were praying were beamed on Saudi television, amid stress call by the Qatif hospital for blood donations and off-duty staff to volunteer service so as to cope with the high number of casualties recorded in the deadly attack.
Please follow and like us:
Short URL: http://www.africanexaminer.com/?p=23658