22 Suffer Burns As Gas explodes In Epe
Featured, Latest News, News
Tuesday, September 9th, 2014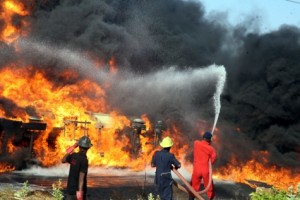 The Lagos State Fire Services says 22 persons have suffered severe burns as a cooking gas explodes in Epe area of Lagos, Nigeria.
The incident which occurred on Tuesday led to several properties being destroyed, says the Director, Lagos State Fire Services, Razak Fadipe.
The incident occurred at 21 Kalesanmi Street. The resultant fire led to serious confusion in the community as residents ran helter and skelter following the explosion which completely razed the building belonging Agbo Meji Family.
According to Fadipe, the explosion occured occurred when a resident attempted to lit matches beside a gas cooker when the gas exploded and burnt the entire building, saying that many of the victims were caught by the fire while running away from the scene of the fire which took place at the ground floor.
Fadipe added that the 22 people injured comprises 10 male and seven female adult and five teenagers.
"We responded to a fire outbreak at Epe caused by domestic gas explosion. Ten male adult, seven female adult and five teenagers suffered burns and rushed to General hospital, Epe. The building has wooden slabs on which the first storey lies. The wooden slabs also gutted fire that was why most people were caught by the fire," he stated.
Please follow and like us:
Short URL: http://www.africanexaminer.com/?p=17257