30 Die, 77 Rescue As Another Migrants Boat Sinks Into Mediterranean Sea
Featured, Latest News, North Africa
Thursday, May 26th, 2016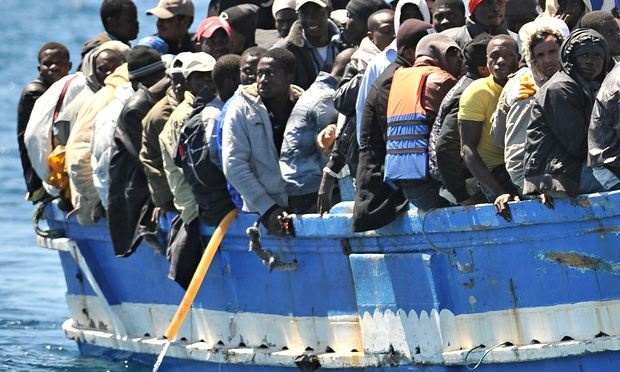 BALTIMORE, MD (AFRICAN EXAMINER) – No fewer than 30 migrants have died, while 77 were rescued by EU naval units, after another boat capsized in the Mediterranean off the Libyan coast.
The alert about the latest accident was raised by a Luxembourg reconnaissance plane which saw the sinking boat.
After, ships from an EU task force and Italy's coast guard were mobilized to the scene 35 nautical miles (65km) off the coast as survivors clung to the hull or swam.
Spokesman for the EU's Sophia Military operation to combat people smugglers in the region, Captain Antonello de Renzis Sonnino, confirmed that the rescue team estimated the dead to range between 20 and 30 people. He however confirmed the operations continued.
In order to support in the rescue task, the Spanish frigate Reina Sofia, backed by the Italian coastguard, by throwing life floats and jackets to the victims plunged into the sea.
It would be recalled while the Italian navy rescued Wednesday, 562 migrants from a capsized boat, another 6,000 migrants struggling to reach Europe have also been rescued from flimsy craft in the Mediterranean this week alone.
Aid agencies confirmed that the crossing between Libya and Italy is the main route of migrants since an EU deal with Turkey slashed the number sailing across the Aegean to Greece.
IOM source confirmed that a total of 189,414 migrants arrived Europe as at May 17, 2016. Of the figure, a total of 1,357 died or missing in Mediterranean, while 976 died or missing en route to Italy. It also indicates that the total arrival in 2015 was estimated at 853,650.
Please follow and like us:
Short URL: http://www.africanexaminer.com/?p=33020