41 People Killed In Earthquake In Ecuador
Latest News, World News
Sunday, April 17th, 2016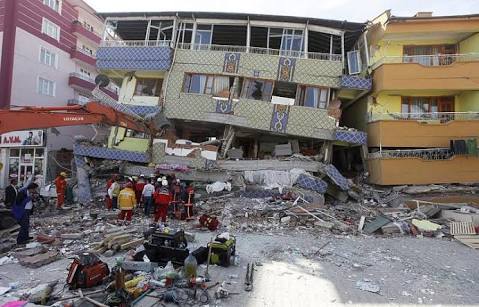 At least, 41 people have been killed in a powerful earthquake, measuring 7.8 magnitudes in Ecuador.
Vice-President, Jorge Glas confirmed that the quake struck at 18:58 local time on Saturday (23:58 GMT) near the northern coastal town of Muisne.
Consequently, severe damage has been reported in many areas, with a bridge destroyed at South as Guayaquil about 300km (190 miles) away.
The quake, which is the largest in Ecuador within decades, also shook buildings in the capital, Quito.
The quake was felt in Colombia, leaving patients in a clinic in the city of Cali to be evacuated from the building as a precautionary measure
Following the sad development, President Rafael Correa is cutting short his trip to Italy to return home. Already, he has called for calm, posting on his Twitter handle: "Our infinite love to the families of the dead."
Similarly, a state of emergency has been declared in six provinces, while the National Guard has been mobilized.
In his reaction, the Mayor of the town of Pedernale, a city close to the epicentre Gabriel Alcivar, said: "We're trying to do the most we can but there's almost nothing we can do."
He confirmed that dozens of buildings had been flattened and looting had broken out.
"This wasn't just a house that collapsed, it was an entire town," said Alcivar.
Neighbouring Peru had issued a tsunami alert for its northern coastline.
Ecuador is prone to earthquakes as it is located along the so-called Ring of Fire, a horseshoe-shaped, seismically turbulent area of the Pacific Ocean.
Please follow and like us:
Short URL: http://www.africanexaminer.com/?p=31899