Afropolitan Vibes: Another Unique Dimension To Afro Beat And Entertainment
Entertainment, Latest News
Tuesday, November 18th, 2014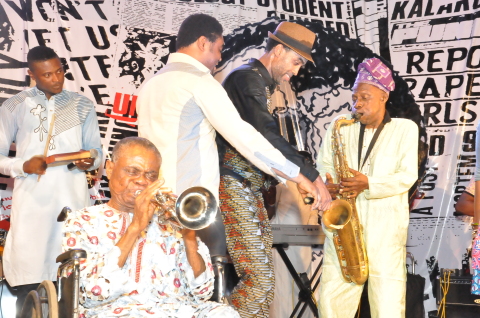 By Adeseye Adebiyi
AFROPOLITAN vibes is a monthly live music concert, considered as an arena for alternative music. It is an event where music lovers besiege and assemble to watch live performances of the contemporary artistes such as singers, songwriters and musicians, doing justice to mostly, the original work that are unflinchingly entrenched in the musical origins of Afro-beat, Afro-funk and Afro-hiphop.
The vibes is the initiative and brainchild of the dynamic Nigerian/German foremost musical figure, a painted image and idol, Ade Bantu. It is co-produced by Abby Ogunsanya.
"AFROPOLITAN " was cobbled up from the name "AFRICA" and the ancient "GREEK" root – POLIS, which literally means "CITY". Polis can also be regarded as citizenship or anatomy of citizens. It is an exertion at redefining African phantasm by placing pre-eminence and positiveness on ordinary citizens.
BANTU meaning Brotherhood Alliance Navigating Towards Unity, consists of Ade and Abiodun. The band features multi instrumentalists and singers who perform as a collective. Adegoke Odukoya popularly known as ADE BANTU was born by a Nigerian father and a German mother over 43 years ago in Wembley London. Just like it takes a village to raise a child, it takes a team to make a book, Ade is best known as the founder of the Afro German musical collective, the front man of BANTU and afro beat academy band.
He had received the Kora Awards (the Pan African equivalent of the Grammy) for his album Fuji satisfaction in 2005. He is politically active; runs a non-governmental organisation, affiliated with the brother's keeper musical projects. They visit schools, advocate for changes in asylum and against discrimination laws as well as assist victims of racist motivated attack.
Afropolitan vibes have divulged and exhibited music legends such as Dr Orlando Julius, Jimi Solanke, Etubom Rex Williams, late Fatai Rolling Dollar capturing music from a 'by gone' era, and acts like Vector, Sheyi Shay, Praize, Gaise, Simi, Lekan Babalola and renaissance of Lagos music.
The previous edition of Afropolitan vibes was held in honour of the Nigerian Afro beat icon, Late Fela Anikulapo Kuti just as it has done to other music icons. Afropolitan vibes comes up every third Friday of the month at Freedom Park, with the rich taste of a luscious white liquid (PALM WINE) freshly tapped at the early hours of the morning of each shows and served in a traditional way.
Please follow and like us:
Short URL: http://www.africanexaminer.com/?p=19703