AIT Online Presidential Poll Pulled Down After Buhari Takes Commanding Lead
Featured, Latest News, Nigeria 2015 Election
Wednesday, January 28th, 2015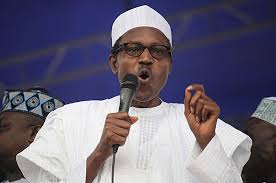 By Niyi Adeyi, Lagos – Barely 24 hours after its launch, the Africa Independent Television (AIT) on online presidential poll been shut down purportedly on the technical ground, reason many have faulted.
The Nigeria private television owned by a chieftain of the ruling PDP, was launched Tuesday on its official website to measure the popularity of all the Presidential candidates contesting the February 14, 2015 Presidential election.
The poll which pulled massive response from Nigerians put the opposition All Progressives Congress (APC), General Muhammadu Buhari (rtd) in a wide lead ahead of others, including the incumbent President Goodluck Jonathan and candidate of the PDP, who trailed far behind him.
As at last glance, General Buhari of the APC polled a total of 7,158 or 76.23 percent as against President Jonathan who garnered 1, 953 or 20. 8 per cent of the total online votes cast. Both were trailed by eight other Presidential candidates of other political parties.
The management of the television house linked the sudden abruption of the poll to routine maintenance.
Still, some social media commentators have roundly and angrily faulted the reason, as well as condemned the development, hence suspected manipulation.
It would be recalled the same TV station Tuesday evening, air a documentary on Buhari, on his past alleged misconducts. Some PDP stalwarts posted information in this regard on social media and directed members of the public to watch it.
Please follow and like us:
Short URL: http://www.africanexaminer.com/?p=21963