Amaechi Unable To Vote Over Lack Of Result Sheets
Featured, Latest News, Nigeria 2015 Election
Saturday, March 28th, 2015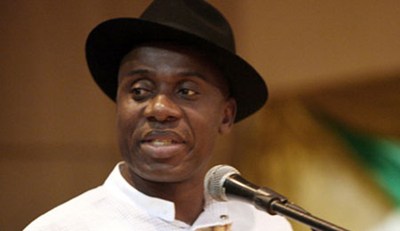 *As Violence, Malpractices Mar Rivers Presidential Election
From Collins Amadi – The Saturday Presidential Election in Rivers State, South South Nigeria has been marred by bloody clashes and many logistics irregularities in some Local Government areas of the State, leaving the Governor, Rotimi Amaechi unable to cast his vote.
On reaching his polling unit around 10.00am, at Ubima under Ikwerre Local Government, he asked for the INEC result sheets, which he was told was not available.
Consequently, he declined to be accredited as he argued, it was a must that the result sheets were available, as he argued, after the voting, any result could be posted and without it, there was no evidence one could use to support or justify his claims.
After, Governor Amaechi returned to the State House around 12.00 noon.
Governor Amaechi indicated that he called the State's INEC Resident Electoral Commissioner (REC), Mrs. Gesila Khan and informed her about the development, but the response got from her was incomprehensive, as she claimed she had sent the sheets.
Political thugs also snatched ballot papers in some local government areas.
Earlier, a soldier was shot dead, by political thug, in Obi/Akpor Local Council area of Port Harcourt. The Military man was killed as he attempted to check the hoodlums who laid siege in part of Port Harcourt city.
Meanwhile, on the account of the skirmishes and prevailing shortcomings, the State Chapter of the APC has demanded for the cancellation of the Saturday's poll in the State. The call aligned with the same demand, earlier made by Senator Magnus Abe, representing the South – East Senatorial District of the State.
Rivers, is the home state of President Goodluck Jonathan's wife, Dame Patience. She hails from Okrika Local Council, which has been in the news over persistent political violence, one of which was bomb attack and disruption of the APC Governorship candidate rally last month. A policeman was killed while many were injured.
Another trouble councils in the State are: Ikwerre, Obi/Akpor in the Port Harcourt city, where both Governor Amaechi and the PDP State's Governorship candidate, Nyeson Wike hail from. Pundits had predicted bloody voting exercise in the State, owing to the gladiators the First Lady and Wike coming from one camp with the third – Governor Amaechi belonging to another.
Please follow and like us:
Short URL: http://www.africanexaminer.com/?p=22992