ANALYSIS: Religion 'Smuggled' Into The Issues – Based Election Campaigns
Featured, Featured Contributors/Columnists, Latest News
Friday, January 2nd, 2015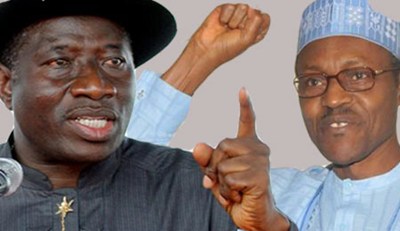 By Tajudeen Balogun, Head, African Examiner, Nigeria Bureau
Compliment of the season. My wishes to everyone this New Year are success, breakthrough and victory. And less I forget my appreciation to our regular readers. Big thanks to your following, love, reactions, convictions, critiques and comments so far. More of your feedbacks are mostly welcome!
Personally, it was very painful to begin the weekly commentary this new year, yet on a cold and reservation notes. Still, I concluded and asked myself whether I really have choice or not to decline what sincerely satisfies my conscience – which again is an issue bothering on National interest and our common goal.
Unfortunately for the Nigerian ruling People's Democratic Party (PDP), its over 15 years of being in care of power and poor rating, has largely become a debatable topic (some might feel otherwise). Whether true or not, one fact that remains clear now in the country is that the level of political consciousness and education among the Nigerians is daily on increase. And the clear and direct implications of this are that more of the matured Nigerian populace are getting more active and involved in the partisan or otherwise political activities.
Interestingly, the very clear message being passed to anyone that cares listen is 'politics in Nigeria today is beyond the politicians, unlike before. One of the fall out of this is the loud and unanimous demand by the public, especially after formal emergence of the Presidential candidates of the two main political parties – the opposition All Progressives Congress (APC) and ruling PDP, on the significant need to ensure the electioneering campaigns are issues based.
Since early last month (December), the media (conventional and online) as well as the various social media handles have been engaged with analyses and topics under various harsh tags on issues campaign. There is no doubt in the fact that the development is a good signal and trend in the democratic process of the country. But despite this, it is surprising that the political class have in their 'best calculation' imported and smuggled' religion into campaign which has not even taken proper shape.
Kindly note if I am categorical about a particular political party or certain personalities, belonging to the same camp, that is exactly the state of the matter and no intent whatsoever, to undermine anyone or any political party.
Over a week ago, President Goodluck Jonathan's Special Assistant on New Media, Reno Omokri, responded in a manner I consider to be 'religion blackmail' to a critique by General Muhammadu Buhari (retd) of the opposition APC Presidential running mate, Professor Yemi Osinbajo (that Mr. President was running a visionless government which has inflicted more pains on Nigerians) via his twitter handle.
Omokri in the mode he dimmed best to Professor Osinbajo's punch at his boss (the President), dropped that such attack was unexpected of "an ordained Pastor" like the Law teacher. He raged further that instead of Osinbajo "serving as an agent of transforming politics with the light of his moral compass" he was aligning with the prevailing political culture that one could hardly differentiate between a clergyman and a regular politician.
On this, is the Presidential aide saying the Professor should not criticize the government if he wishes to? Is Omokri inferring that Osinbajo's statement was untrue and misleading? Even if yes, by his reckoning, is the way he chose to reply, the best he should have gone, given the popular demand by the public from the politicians and political parties on issues based vote canvassing crusade? Why couldn't Omokri respond directly to the man without necessarily lumping the reply with Osinbajo's status a man of God? What about if for instance, he has challenged him as a learned fellow? What actually is the definition of issues based campaign and what best manner of reply to issues as the campaigns about to fully take off? Further comments on that after more instances, of the smuggled religion sentiment into the emerging political campaigns.
President Jonathan's Media and Publicity aide, Dr. Reuben Abati has also joined in the similar regard, may I say? He had posted an extract of a statement credited to a National APC leader, Asiwaju Bola Tinubu, this week on his Facebook account. Titled: Buhari and his ilk are agents of destabilization – Bola Tinubu 21 February, 2003, the post reads: 6. (C) "Turning to the presidential contest, Tinubu disclosed that he does not like President Obasanjo because he contributed to the end of democracy in Nigeria during his tenure as a military president and is now benefiting from that history. That said, Tinubu admitted that he and his party, the Alliance for Democracy, must support Obasanjo. Southwest Nigeria is Yoruba land and the President is Yoruba. Tinubu"s party had no choice since it has not fielded a presidential candidate. Moreover, Obasanjo is the only candidate who stands a chance of blocking his rival, General Muhammadu Buhari, whose ethnocentrism would jeopardize Nigeria"s national unity. Buhari and his ilk are agents of destabilization who would be far worse than Obasanjo. Tinubu and many other governors are therefore implementing a strategy to re-elect Obasanjo, partly in an effort to prevent Sharia from spreading. Tinubu predicted that the President will follow his own course, if re-elected, since he will not need as many friends the second time around".
Like I guessed, I am not really clear whether the game Dr. Abati was playing here was either tribalism or religion. Still, the concluding aspect of the statement suggested the height of sentiment being wimped is religion. Is this what Nigerians expect or define as issue based campaign?
Briefly away from the political circle. A Cleric, Pastor J.T Kalejaiye last Sunday was quoted and reported to have exploded, challenged and posed that of what importance should he vote for his brother (President Jonathan?) who had failed to deliver on his promises when given the opportunity to serve? Pastor Kalejaiye even went to the extent of painting a picture (figurative or real) of a Christian folk having a very homely and pleasant working relationship with a Muslim faithful boss. Many have considered the clergyman's submission as a direct campaign and affirmation of support to the APC Presidential candidate and his running mate, Osinbajo – a fellow member and Pastor in the same church.
It may be difficult to fault those with this view, after all, what could have been Pastor Kalejaiye's take on Buhari for instance without a co – Pastor as his Vice? This brings to fore, the significance of the men of God to always be heard and known to be fair, just and balance, every time and everywhere they comment on issues of national interest.
And the one which I view as the cheapest and most intellectually lazy, as well as irrelevant of all the religion cards being played so far, was by the ex – Minister of State, Musliu Obanikoro.  Penultimate the week, while he was addressing his supporters to rally the Lagos State PDP Governorship candidate, Mr. Jimi Agbaje and President in the February elections pointed out: "When Buhari was in his 40's, he couldn't govern Nigeria. Buhari was Number 1, a Muslim; Idiagbon Number 2, a Muslim; Chief of Air Staff and Chief of Army Staff were Muslims. They were all Muslims. We don't want that kind of Nigeria anymore. We want a Nigeria where everyone will have a sense of belonging. We have seen it all and we know that Buhari does not have the capacity to build Nigeria of our dream."
Trust Koro, it was over the bar again. Please, can somebody help out and tell him to stop this persistent unforgiven blunders and misfiring? Honestly, I do not know in what way is the present calculation – (Buhari's pairing) aligns with the error and by the Lagos – Abuja and Abuja – Lagos Politician. I feel it is always better for one to keep mute, instead of 'making noise' just for the sake of being heard or perceived to be supporting the 'almighty Boss'.
Now the issues based; what about it? This has been repeatedly articulated by so many and it is very clear. Beside the religion card which I as person, will never subscribe to, another area we need to address is the fact that does issues based campaign is totally without critique against the past misgivings or misconducts of a party or a personality? My answer is no. Please note, my point is not about character insult and damage, rather, policies and administrations. The issues based campaign cannot be totally disengaged from these.
Yet, the rule of the game is rubbished when party A fires abuses at party B or its candidate. To me, if the offended party B responds to party A attacks, there is nothing to contend with. It is certain that if the assault did not come in the first place, the equal fire for fire reply will not ordinarily be made. "Semi-literate and jackboot" and the likes attack are characters onslaught and such should be discouraged by all parties. So the onus again is on the political class.
Yes, the post by Dr. Abati challenging a debate on General Buhari's Military junta cancelling the $78 Million Lagos State Metro line project, of former Governor Lateef Kayode Jakande as well as accusation of the sum of loan to the tune of $981 Million since 2000 on the same project is an issue due for debate and the public will be glad in how every stakeholder roped, will defend himself without assaults and abuses.
Still, I must recall and warn here that President Jonathan's supporters who feel the religion sentiment could be used against their big opponent and 'headache' (Buhari) should be wary that it is one of the factors their superior, relate and based his campaign and almost over five years of administration. It is unarguable that in the history of Nigerian administration (military or civilian), there is no government so known for religion bias as well as tribal difference as presently witnessed in President Jonathan's government. He benefitted immensely from these and Dr. Abati knew and analyzed extensively about these prior to his political appointment.
Therefore, if President Jonathan's team is rooting to castigate any one rightly or carelessly based on religion (which Nigerians do not really need), they must bear in mind that, they will receive in return more than full doses of firing, not only from the fellow politicians but from the general public, as their master is the first suspect of this shortcoming. Kindly search and refer to my piece titled: N100m Donations For N22m Presidential Form of (posted Friday, October 31st, 2014)
Let me at this juncture hail the seemingly agreement and understanding from the two leading political parties of embracing and working for credible and violence free polls. This is very gladden signal, if eventually turns a reality. For sure, such situation will ultimately support the promotion of an exciting, quality and standard electioneering campaign and largely promote the issues based campaign we all crave for.
Finally, those who think religion campaign this time will work at the field should go back home, sit back, think very seriously and very well too and re –strategize. The take of many Nigerians now is that tribal, religion and other flimsy sentiments will no more work. They have vowed not to repeat the same error in the past. So, President Jonathan and General Buhari, the issue now is, show your score cards if you have any, between now and the next four weeks when the vote canvassing closes nationwide. Nothing more; nothing less!
A Word Of Advice For Dr. Abati
It is not a crime if I hold that President Jonathan's SA on Media and Publicity, Dr. Reuben Abati is one of the most famous and adored Nigerian newspaper columnists. Equally, it is never an offence for me to confess that the same theater artist turned journalist is one of my role models in the art of writing. Therefore, the Abeokuta born prominent writer should know my advice today is out of respect and love for him (as a successful media professional and majorly as an inspiring writer).
Dr. Abati, I watched early years of your appointment as being very professional and responsible. However, the music has for some times now changed to something different from the (expected) above. Kindly be informed that I paid attention to all of your posts on different social media handles as well as followed the public comments on them. Oga Abati, you will totally agree with me that your rating by those comments has appreciatively fallen as you are now regarded as a shadow of yourself; a persistent liar and disgruntled (sorry, this is too heavy for me to use on you) aide. This is actual you before the general public now. I am sure you really take note of some, lamenting this is not the bold, critical and down- to – earth Abati who we used to read on Fridays and Sundays Guardian. Are you not bothered about this? Are you not worried how you will relate and connect back to these people after your scheduled appointment?
And your personality (built for years with dint of hard work) is being rubbished just to defend your boss, his government and policies at all cost? Well, that is very natural, yet, some level of sanity, caution and restraint must be exercised by you, if you must remain on your current job. There is no need citing examples (you can simply refer to some of those comments hitting your prolific postings on the social media). However, if you think the present way you are going is the best for you, before I rest my case, I wish to draw your attention to a contemporary of yours – Mr. Segun Adeniyi, also former spokesperson of late President Umaru Musa Yar' Adua. By all standard, Mr Adeniyi conducted himself very professionally and like a complete gentleman of the press all through the two years of his late boss, even when the ever hyper media would not give breathing space on the severe health condition of his superior.
Dr. Abati, you have lost this track of honour and it is high time you made a quick reverse, if you would not vacate the position. I am convince that all your points can always be articulated, provided they are genuine, without you packaging black to be white. I advise you, stop the bolekaja (in your words) verbal assaults and approaches.
Finally, if you ask me, EXIT will be my best advice for you (as you continue to run into trouble waters) in a frantic and untiring efforts to manage your product, please don't ask about the product. Be rest assured that those who you have seriously attacked and offended would forgive you; poor Nigerians, they might also forget. But if that option is not workable for you, my final take is sooner or later, you will round off, return and continue with your best trade. Then, you begin to talk to Nigerians over what? Think and think very well, Dr Abati.
E – Mail: tjaysuccess10@gmail.com; Facebook: Tajudeen Balogun
Please follow and like us:
Short URL: http://www.africanexaminer.com/?p=21228