APC Says Bukola Saraki Not Fit For the Senate Presidency
Featured, Latest News, News, Politics
Thursday, August 9th, 2018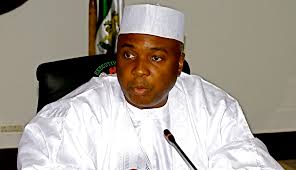 …Your Accusation Baseless, Saraki Replies
(AFRICAN EXAMINER) – The All Progressives Congress (APC) on Thursday said that the President of the Senate, Dr. Bukola Saraki is definitely not a fit and proper person to preside over the country's upper and revered legislative house.
The ruling Party said that having suffered under the 16-year misrule of the Peoples Democratic Party (PDP), Saraki will go down in our country's history as the worst Senate President Nigeria has had the misfortune to have.
It said that all over the world, the leadership of the legislature is provided by the political party with majority members, adding however Dr. Saraki had in the absence of many members of his former party, the APC, connive and conspire with members of the opposition Peoples Democratic Party (PDP), to emerge as Senate President, and in the process tradeoff the Deputy Senate President position to the opposition PDP.
These were contained in a statement by the Acting National Publicity Secretary of the APC, Mr. Yekini Nabena, who said that even the devil would be envious of a political betrayal and treachery.
Nabena further said; "Even at this time he has defected to the opposition PDP, and with APC still in the majority in the Senate, Dr. Saraki still has the impudence to present himself as the Senate President. Political ambition should be made of nobler stuff.
His words: "In every democratic country, the position of the Senate President is one of the highest political offices one can attain. It is a position reserved for the best of the best, experienced and exemplary politicians who by their character and conduct in public offices, the younger generation look up to as role models."
Meanwhile, the President of the Senate, Dr Bukola Saraki, has described as baseless accusation by All Progressives Congress(APC) that he was the worst president the National Assembly had produced in the country.
Saraki said in a statement by his Special Adviser, Media, Mr Yusuph Olaniyonu, on Thursday, that the comments by the APC was prompted by alleged plans by the party to "subvert democracy".
He said "we can't descend into the gutter with these characters. Apparently, they have not recovered from the shock of their Tuesday's failed attempt to subvert democracy."
Please follow and like us:
Short URL: http://www.africanexaminer.com/?p=45372