AU Standby Force A "Unifying" Tool To Battle Continental Insurgency – CDS Ol onisakin
African News, Latest News
Tuesday, November 10th, 2015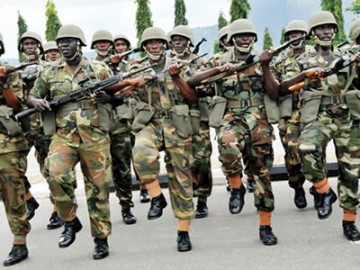 By Mustapha Abdul Salaam
The African Union Standby Force (ASF) is a unifying and standing force that has the mandate to respond to insecurity and emergency situations in African continent, said, the Nigerian Chief of Defence Staff (CDS), Gen. Abayomi Gabriel Olonisakin.
Gen. Olonisakin made this known Tuesday, while receiving the country's contingent of ASF, consisting of 41 officers and soldiers who arrived the country today, after a two-week intensive training in Peace-Keeping at the South African Army Combat Training Centre in Lohatlan.
CDS emphasized that the establishment of the ASF would not collapse other existing intervention forces in different countries, but rather intervene in cases of genocide, crimes against humanity, war crimes and also monitor peacekeeping missions in the continent.
Olonisakin who hailed the role of the Nigerian military in fostering peace in the past, described the ASF training as a huge step towards achieving peace and security in Africa.
The Defence Chief who was represented by Commodore Uche Onyia extended CDS' appreciation to the Nigerian Air Force for airlifting the contingent to and fro South Africa and equally commended members of the contingent for their exemplary conduct.
The leader of the contingent, Col Joseph Amadasun in his remarks, pointed out that the two-week field exercise was an intensive training exercise which had to do with "operationalization" of the standby force, adding that the group comprised 5,000 troops from Angola, Kenya, and Zimbabwe.
He also disclosed that the establishment of the ASF was an effort by the African Union (AU) to bring the member states together and work out modalities to tackle insecurity in the region. Amadasun added it also evaluated the force's operational readiness to respond to crises and monitor peace keeping missions.
ASF is an initiative of the AU established to reduce reliance of African countries on external assistance for conflict resolution. The Constitutive Act of the ASF gives the Union the right to intervene in a member country uninvited in cases of grave circumstances, genocide, crimes against humanity and war crimes.
Its other objectives include to enable the AU observe and monitor missions, other types of peace support operations and provide proactive deployment to prevent dispute or conflict from escalating.
The task before the ASF, include post conflict disarmament and demobilization, as well as provision of humanitarian assistance to alleviate the suffering of the civilian populace in conflict areas and during natural disasters.
Please follow and like us:
Short URL: http://www.africanexaminer.com/?p=27304