Bama Death Toll Rises To 180 Amidst Denial of Insurgents' Seizure of The Town
Featured, Latest News, News
Wednesday, September 3rd, 2014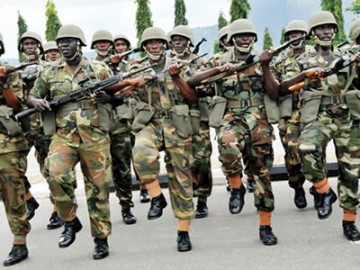 From Ganiyu Nasirudeen
The fighting which started early Monday morning between the national troops and members of dreaded Boko Haram in Bama town, Borno state has recorded over 180 casualty.
Spokesperson of the Youth Vigilant Group otherwise refered to as Civilian JTF, Barrister Jubrin Gunda, disclosed this Tuesday while addressing a press conference in Maiduguri, the Borno State.
Gunda who informed that a total of 35 out of the insurgents who invaded Bama Monday morning have been arrested. He however discredited the media report that the insurgents have overrun the town and dislodged the military from the terrorized town.
He dissociated the group from the interview granted some foreign media by Senator Senator Ahmed Zannah today, as he claimed his response to them did not represent the fact on ground.
"What he stated is not true facts on ground. More so, the interview he granted has contributed in instilling fears in the mind of citizens of Borno state and the residence of Maiduguri in particular" asserted Gunda.
He therefore urged the citizens of the state not to panic and advised against fleeing from the state capital as he re-affirmed "the Nigerian security forces are capable, willing and competent to discharge their duties."
The Publicist also cautioned the citizens to desist from making unguarded and false information which could further frighten the citizens unnecessarily.
Some international news agency had earlier today reported that the Bama town has been ceased by the insurgents, raising the fear of further escalation, just as the group declared Gwoza penultimate last weekend an Islamic Caliphate.
Please follow and like us:
Short URL: http://www.africanexaminer.com/?p=16935