Bloody Sunday Attack On Jos Quran Center, Yobe Redeemed Church  Puts Buhari Under Fire
Featured, Latest News
Monday, July 6th, 2015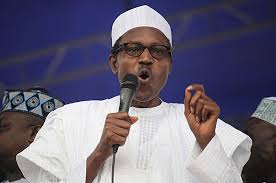 By Abdul Gaffar Bello -President Buhari's strategies and several assurances  to defeat the deadly boko haram fighters are under scrutiny as many Nigerians expressed doubt about sincerity of the President's promises to defeat the insurgents.
Even the president's inability to form his cabinet, announce his policy direction, and the scrambling for power at the national assembly by the president's party men bother Nigerians who spoke to our correspondent.
Also, many on social media are shocked that even since the president took over power, Boko Haram insurgents have continued to unleash terror on Nigerians adding that they couldn't even see any difference between insurgency under former president Jonathan and president buhari.
These doubts were as a result of Sunday's deadly strike at a quoran center in Jos, and at a redeemed christian church of God in Yobe state.
It was a bloody Sunday as six people, including a male suicide bomber died at a redeemed church service in Potiskum, Yobe State while suspected Boko Haram terrorists struck also on Sunday in Jos leaving many dead and several injured.
African Examiner's correspondent late Sunday night reported that the first deadly Jos explosion took place very close to the University of Jos (UNIJOS), while the second one was recorded at Yantaya, Nasarawa Gwon area, in Jos North Council area of the North central State.
Casualty during the second explosion is expected to be much, as it occurred at a location where the Ramadan Quran exegesis was in session, with a large attendance of Muslim faithful, who came for admonition and hoped to break their fasting for the day.
"These fresh attacks and killings should embarrass President Buhari who have severally vowed to defeat the insurgents during and after the general election. However, since after his inauguration little or nothing is being achieved in the fight against insurgents as we hear of the Boko killings and bombings almost everyday in the north."  a Nigerian who simply dropped his name as Elijah stated this in a chat with African Examiner's correspondent in Jos.
Others who spoke to our correspondent advised Mr buhari to form his cabinet forthwith and to fire the service chiefs whom they believed lacked any new initiative to defeat the stubborn Boko Haram having failed under the immediate government of President Goodluck Jonathan.
Meanwhile, Former Vice President Atiku Abubakar has lamented over the latest terrorists killings and called for support to President Muhammadu Buhari to win the war against the insurgents.
Atiku made the call Sunday night in a post on his Facebook account.
He said he was "deeply saddened by the senseless killings" of innocent and precious lives in Maiduguri and Potiskum in this holy season of Ramadan.
While regretting the death and condoling with families of the victims, the former Vice President stressed "we must stand with President Buhari in exploring all avenues and initiatives to end terrorism in our country."
Please follow and like us:
Short URL: http://www.africanexaminer.com/?p=24310