Brazil: Embattled President Rousseff Insists Her Looming Impeachment Is A "Coup"
Latest News, World News
Thursday, May 12th, 2016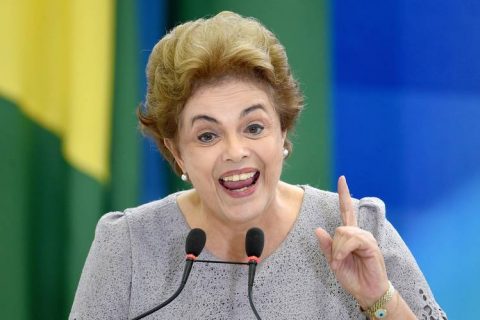 Embattled Brazillian President Ms. Dilma Rousseff has insisted the plot to impeach her is a "coup" and sham.
While making National broadcast since Senators voted overnight in support of her removal, over budgetary violations, Ms Rousseff vowed to fight what she described as "injustice" by all legal means.
If she is impeached, Rousseff's Vice, Michel Temer will assume the Presidency while her trial lasts.
The trial may last up to 180 days and this means the troubled President would be suspended during the Olympic Games in Rio de Janeiro, which kicks off August 2016.
Already, 55 Senators have voted in favour of her impeachment, while 22 voted against, in an all-night session which lasted for over 20 hours.
The embattled President is accused of allegedly manipulating finances to hide a growing public deficit ahead of her re-election in 2014.
After her TV speech Ms. Rousseff left the Presidential palace and shook hands with supporters lining the pathway.
Meanwhile, her Deputy Michel Temer is set to be sworn in later Thursday, after which he will give his inaugural speech and present some of his cabinet members.
Ms Rousseff who had indicted her Vice of leading the coup to sack her, has equally accused the opposition of leading the move because they strongly opposed all the advances she and her predecessor, Luiz Inacio Lula da Silva, had made for the Brazilian poor and lower middle classes.
Brazil is suffering from her worst hit recession in 10 years, in which unemployment reached nine per cent in 2015 while inflation reached 12-year high.
Please follow and like us:
Short URL: http://www.africanexaminer.com/?p=32635