Breaking News: Buhari Escapes Bomb Attack In Kaduna
Featured, Latest News, News
Wednesday, July 23rd, 2014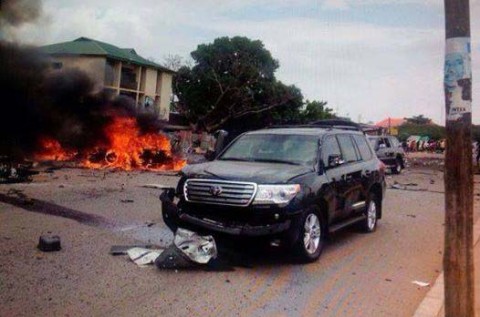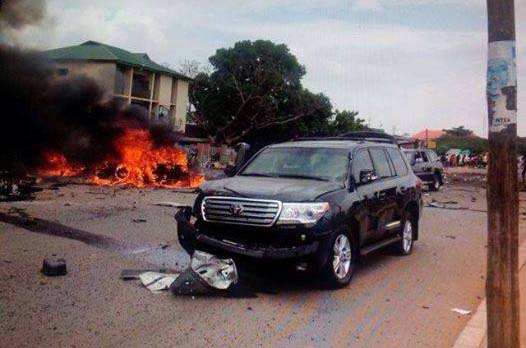 General Muhammadu Buhari narrowly escaped death in Kaduna Wednesday afternoon in the second bomb blast that rocked Kaduna.
Three aides and security men attached to the All Progressive Congress (APC) national leader have been confirmed injured in the blast in Kaduna at Kawo on their way to Daura, Katsina State with Gen. Muhammadu Buhari.
The Bomb blast was said to be targeted at Buhari as the bombers trailed his convoy and detonated the bomb very close to his convoy injuring his security and personal aides.
However, the General is in good condition apart from the trauma of the incidence, according to reports.
50 Killed in Second Kaduna Blast, Several Injured
Meanwhile, the Kaduna city has witnessed second blast on today (Wednesday) as 50 people have been reportedly killed in another devastating explosion in the ancient city.
The latest eruption occurred about two hours after the first on Isa Kaita road, an access axis to Muritala Square.
African Examiner Correspondent reported that the new blast took place at the Kawo bus stop in the central Kaduna Metropolis.
Our correspondent gathered that the deadly bomb was packed inside a vehicle, near the bus stop.
Beside those killed, there were several other victims who sustained severe injuries.
The scenes of the two blasts allegedly targeted at a popular Islamic Scholar, Sheikh Dahiru Bauchi have been cordoned off, while law enforcement officials have taken over to control the situation.
Sheikh Bauchi who escaped unhurt is an avowed critic of Boko Haram insurgents and their nefarious activities.
Please follow and like us:
Short URL: http://www.africanexaminer.com/?p=14865