Buhari Declares Recruitment Of 10,000 Policemen'll Resolve Unemployment Crisis
Featured, Latest News, News
Friday, April 1st, 2016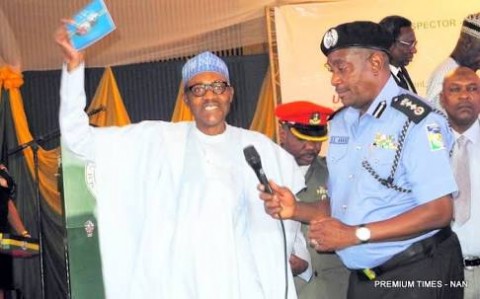 President Muhammadu Buhari has assured that incoming recruitment of 10,000 policemen would address the challenge of youth unemployment in the country.
Mr. President made the assurance Friday at a ceremonial parade to mark the 2016 Police Week in Abuja.
Buhari, who was represented by the Minister of Interior, Lt.-Gen. Abdulrahman Dambazau (retd), indicated that the initiative would also address the manpower gap in the police.
He therefore advised management of the Police force to put national interest in mind in the recruitment in line with the reform agenda of the Interior Ministry.
"In carrying out this exercise, I expect the Nigeria Police to put national interest in the foremost, "the Minister said.
Buhari stated that the community policing had become more imperative given the current security challenges in the country.
He said it was in view of this that his administration had rested the internal security of the country on enhanced budget, addressing social factors among others.
Mr. President informed that government had funded the procurement of over 1,000 patrol vehicles and other logistics to strengthen operational capacity of the police.
He also disclosed in order to address the challenge of highly organized crime; government had strengthened the technical intelligence capacity of the police.
"No nation thrives without security, and neither can a nation lay claim to security without an efficient policing service.
"This administration shall continue to support initiatives that will guarantee the reform and modernization of the Nigeria Police.
"I must clearly recognize that the nation expects so much from the police," the said.
He reassured the determination of his administration to bequeath a reformed, re-oriented, well trained, well equipped and highly motivated Police.
NAN
Please follow and like us:
Short URL: http://www.africanexaminer.com/?p=31438