Coalition Declares Support For Brazilian President, Rousseff's Impeachment
Europe, Latest News, World News
Wednesday, April 13th, 2016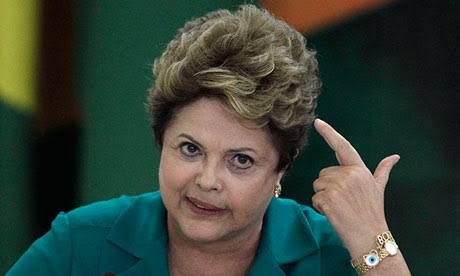 Plot to impeach the embattled Brazilian President; Ms Dilma Rousseff deepens as two former coalition partners have declared they will vote for her removal from the office over claims that she allegedly manipulated government accounts.
The President is being accused of juggling the treasury's accounts to make her administration's economic performance appear bouyant than it was ahead of her election campaign two years ago.
She has however denied the allegations, while her supporters countered that the issue involved is not valid grounds to warrant her impeachment.
On Tuesday, the Progressive Party (PP) quit the coalition and hinted that most of its 47 MPs would vote for the President's impeachment.
Similarly, the Republican Party (PRB) has announced its 22 members had been instructed to toe the same line.
The latest move follows vote by the PMDB – the largest party in the lower house, to leave the coalition.
But in her swift reaction, Ms. Rousseff accused the opponents, contending that they were plotting a "coup".
A PP spokeswoman said Tuesday that they decided to withdraw from the… alliance, by majority decision
Two-thirds majority – 342 MPs – is required to send the impeachment motion to the Senate.
Recent poll before the PP's announcement, confirmed 300 in favour of impeachment and 125 opposed, leaving 88 MPs still undecided or not stating their position.
Also on Tuesday, the embattled President alleged that her Vice, Michel Temer was one of the plotters of the ongoing "coup" against her.
She accused that a widely distributed audio message of Mr. Temer supporting her removal, was enough evidence of his conspiracy against her.
Please follow and like us:
Short URL: http://www.africanexaminer.com/?p=31790