Concerned Group Threatens to Occupy NASS over Buhari's Continued Absence from Nigeria
African News, Featured, Latest News, News
Friday, July 21st, 2017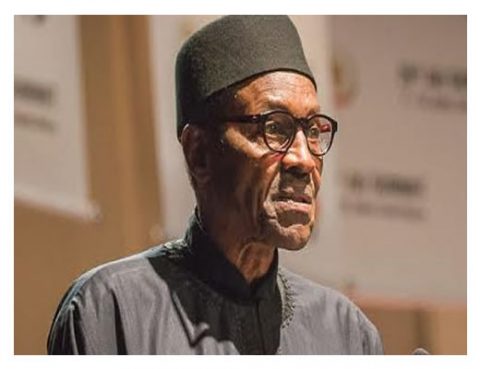 PHOTO CAPTION: Nigeria's President Mohammadu Buhari
(AFRICAN EXAMINER) – Some group of concerned Nigerians have vowed to occupy the National Assembly on the 90th day to register their concerns over the continued absence of President Muhammadu Buhari from the country.
African Examiner reports that President Buhari has now been out of the country for 74 days to seek medical treatment in London.
The statement, which was signed by the group's leader, Prince Deji Adeyanju and its Secretary, Dr. John Danfulani reads:
"Today – July 19th, 2017 marks 72 days of President Muhammadu Buhari's absence from his office as President of the Federal Republic of Nigeria and from the country as a whole on a medical vacation to the United Kingdom.
"During this period, he has not made any public appearances either in London or in Nigeria and has only allegedly "communicated" with very few people and through a voice note spoken in Hausa language wishing Nigerians Happy Eid.
"Furthermore, details of President Buhari's health status have been kept away from the generality of Nigerians while his media team and other members of his cabinet/party make conflicting comments regarding his health. As at the time of this statement, no one including members of his party as admitted by Bolaji Abdullahi, the spokesperson of his party, knows the true medical condition of the President's health.
"We acknowledge that during this period, President Buhari has satisfied constitutional requirements by transmitting letters to the National Assembly handing power over to his Vice President, Professor Yemi Osinbajo, on an acting capacity.
"We also recognise the failure of the National Assembly in launching an investigation or setting up a panel to look into the true status of the President's health.
"72 days is too long for a Commander-in-Chief to be away from his country without any explanation to the people that voted him.
"If the president has become incapacitated, he should do the honourable thing and resign. Nigeria must move forward with or without him.
"We hereby demand that the National Assembly invoke Section 144 sub Section 4 of the Nigerian Constitution and direct the setting up of a medical panel in conjunction with the Acting President, Professor Yemi Osinbajo to ascertain whether the President is incapacitated.
"This medical panel will be a team of 5 doctors from which one of them will be the personal physician of the President while the other four will be appointed by the Senate President.
"If the President is found with any infirmity that renders him incapable of discharging his duties, the Senate President and the Speaker of the House of Representatives shall officially declare him incapable of discharging his duties and declare his office vacant as prescribed in subsection 2 of section 143.
"To this end, if the Legislature fails to act, we will commence a daily Sit-Out at the National Assembly from the 90th day of President Buhari's absence from the Country."
Please follow and like us:
Short URL: http://www.africanexaminer.com/?p=40157