Corruption in Military Cripples Fight Against Boko Haram –Report
Featured Contributors/Columnists, Latest News, News
Tuesday, January 19th, 2016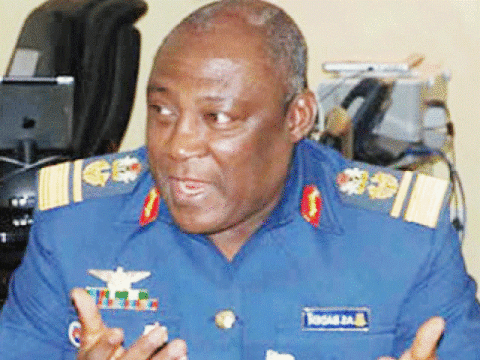 By Eric Ojo, Abuja

BALTIMORE, MD (AFRICAN EXAMINER) – The fight against Boko Haram in Nigeria by the military is strongly undermined by the spate of corruption within its defence administrative and operational structure, a new report by Transparency International (TI) has said.

The report noted that the defence corruption in Nigeria which is fueling extremism and insurgency in the North East region of the country, is systemic in nature.

Nigerian defence institutions, according to the report are ranked "E" meaning they are at a "very high risk" of corruption, adding that systemic weaknesses in Nigerian defence's anti-corruption systems must be addressed to fight Boko Haram.

"Nigeria's ranking comes amidst a context of similar results across Africa. Transparency International's Government Defence Anti-Corruption Index looked at 47 African nations and found the majority facing very high to critical risk of defence corruption", the report revealed.

In addition, its findings also show that parliamentarians fail to exercise their oversight of defence and security policy, defence budgets lack transparency despite making up for 20% of the national budget and soldiers fail to receive the necessary equipment to adequately fight Boko Haram as military hardware procurement is not scrutinised on grounds of national security.

This, the report further noted, has undermined efforts to combat the growing threat of Boko Haram in Nigeria. It however, acknowledged that positive steps have been taken by President Buhari to address corruption, including the arrest of former defence officials.

Corroborating the findings in the report, Katherine Dixon, Director of Transparency International's Defence and Security Programme, observed that it is only in very few places around the world that the dangerous correlation between corruption and insecurity is as stark as it is in Nigeria.

He noted that gaping holes in military budgets, lack of oversight and transparency, are some of the major factors contributing to a rise in support of extremism, and crucially disabling the fight against it.

"President Buhari has made some positive efforts, but arrests of former officials aren't enough on their own. Failure to get this right will see funds and weapons diverted into the hands of terrorists and the fight against Boko Haram will never be won", he added.

Meanwhile, Defence spending across the African continent has increased by 91 percent yet African defence institutions have not caught up with the spending and remain largely exempt from proper legislative scrutiny.

"In the majority of countries, corruption is undermining public trust in the government and the armed forces, pushing citizens into the arms of organised crime and terrorist groups. Nigeria but also Mali, Niger, Chad and other countries in the Sahel must therefore address corruption risks urgently to restore stability in the region", the report further stated.
Please follow and like us:
Short URL: http://www.africanexaminer.com/?p=29584