Court Rules Against Oscar Pistorius As Guilty Of Homicide
Featured, Latest News
Friday, September 12th, 2014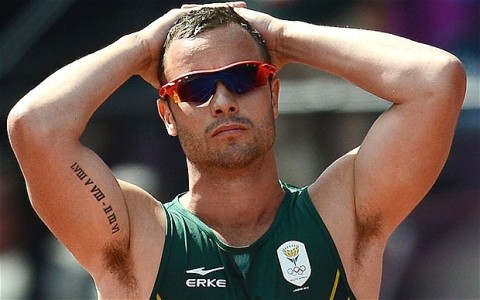 Justice Thokozile Masipa of a South African Pretoria's High Court, has ruled that Oscar Pistorius is guilty of culpable homicide, an offence the country considers unintentional, but unlawfully killing of a person.
The Friday  judgement followed yesterday ruling in which Justice Masipa absolved Pistorius of murder – the killing of his late girlfriend and fellow Olympic medal star, Reeva Steenkamp. The latest judgement by South African constitutional provision, might still lead the "Blade Runner" to remain behind the bars, for the maximum of 15 years if finally found guilty –  after further legal battle.
In the meantime, Justice Masipa has absolved Pistorius of two out of three other weapons related charges, including: a car sun roof shooting incident and illegal possession of ammunition at his house B. He was however found guilty of involving in shooting at a restaurant.
Pistorius, a 27 years old sport star is standing one count  murder charge trail and three firearms offences over killing of his girlfriend, Steenkamp  during last year valentine day – February 14, 2013.
Please follow and like us:
Short URL: http://www.africanexaminer.com/?p=17324