Critical Reflection on Okorocha's Lawless Demeanor
Articles/Opinion, Latest News
Monday, February 23rd, 2015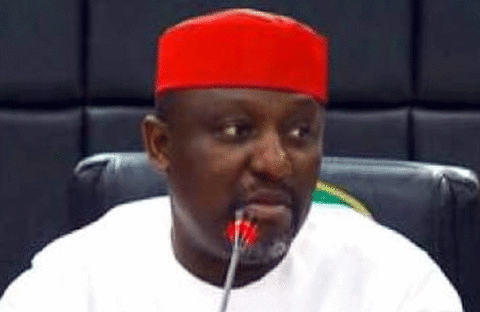 By Austin Uganwa, PhD
Since the inception of Governor Rochas Okorocha's administration May 29 2011 it is evidently clear   that his style of governance in many respects lack desirable decorum expected of a democratic government. This is instructive in the fact that civilian dictatorship,   lawlessness and disobedience to judiciary pronouncements have fast become sub-structure of Governor Okorocha's government . These realities have manifestly negated the real essence of the concept of separation of powers, cornerstone of presidential system of government as practiced by Nigeria
Regrettably, Governor Okorocha's perceived lawless tinge are many and varied. And naturally they constitute a huge threat to our fledgling democracy, rule of law and separation of powers. All of these have been captured in graphic details in this piece.
For presidential system of government to thrive and loom in any part of the world, the concept of separation of powers must as a matter of democratic imperative be firmly adopted by the elected political actors and democratic institutions. The spirit and intent of Separation of powers as propounded by French Philosopher, Monstesqieu in the 18th century are namely that each of the three arms of government- legislature, executive and judiciary-   should function independently and separately to avoid power conflict.
In any country that operates presidential form of government the functions of each arm of government are well spelt out in the constitution. While the legislature's basic duties include law making, oversight and representation; the executive embarks on broad implementation of government business and the judiciary interprets the constitution, Acts of Parliament and other laws in the land and plays mediatory role.
Fundamentally, the concept of separation of powers thus makes it compulsory for the three arms to operate within the functions as prescribed by the constitution. This is essentially so to limit power vested in one arm thereby enthroning checks and balances among the three branches and more importantly guarding against constitutional crisis and anarchy.
The proper application of separation of powers in the United States is instructive of the pre-eminent and unassailable position occupied by that country's democracy and presidential system of government globally. When juxtaposed with other countries presidential form of government, US model remains the standard and ideal and mostly adapted by other nations.
Although separation of powers has been thriving appreciably at the federal level of Nigeria in Okorocha regime of Imo state, the concept is at best alien and far- fetched. Instance abounds in the fact that Okorocha has proven to be a study in disobedience to court decisions in the state.
Courts fall within judicial arm of government and have the constitutional role to mediate conflicts and interpret laws. But most of their pronouncements in Imo are usually and clearly disobeyed by Okorocha contemptuously. Association of Local Governments of Nigeria (ALGON) Imo state branch went to court in 2011 against Okorocha's administration over the government's decision to illegally end the tenure of   council chairmen and councilors in the 27 local councils of the state. ALGON got favourable court ruling that reinstated the sacked political office holders.
He has refused hitherto to implement that court decision. Instead, Okorocha has since inception of his government put in place care taker committees headed by Sole Administrator to administer the local councils. He has neither conducted the local council election nor allowed the care taker committees to function duly.
PDP Imo guber candidate, Hon Emeka Ihedioha observed in Aba at a rally organized last Friday in his honour that   it was a ploy put in place by the Governor to enable him continue to collect the over N4b monthly allocation to the 27 local councils in the state. He promised that when elected Governor he would enthrone rule of law in the state's relationship with the local councils by allowing the local councils control their funds and make judicious use of such allocations.
Besides, under the present jaundiced arrangement, Governor Okorocha pays all the local councils staff directly from the state capital and thus usurping illegally the powers of the local councils authorities. Technically and deliberately, he succeeds in killing the third tier   government, which is distinctly provided for in the constitution.
As he was taking methodical steps to destroy the third tier government, he brazenly floated   fourth tier government he branded Community Government Council (CGC) situated in each autonomous community in the state, in a clear show of lawlessness and absolute disregard of constitutional prescription. The constitution recognizes that the federal structure of Nigeria should be a three- prong arrangement namely; federal, state and local governments. The composition of the fourth tier by Governor Okorocha is obviously against the intent of the constitution and therefore constitutes a gross misconduct.
Besides, illustrious son of Imo, Eze Cletus Ilomuanya, respected Chairman South East Traditional Rulers Council was dethroned by Okorocha on account of his refusal to be enlisted into the All Progressives   Congress(APC) and to work for the re-election bid of the Governor. Ilomuanya went to court to seek remedy, believing that his sack was illegal and portentous . He won the case in court but Okorocha refused to respect the court ruling. Instead, he set other traditional rulers in the state against him.
Similarly, the Governor also audaciously disregarded court rulings brought against him over his unbridled tendency to commandeer lands belonging to Owerri indigenes for his private use. Instead of respecting such court decisions, tall buildings are in contrary sprouting out from some of such lands. Not a few Imolites believe that these developments have in no small way turned the Governor into a civilian dictator and a maximum leader, creating ample room to erode the concept of separation of powers and to provoke anarchy.
The result is that many now perceive the Governor as a personification of lawlessness and as such feel discouraged from turning to court as last hope for citizens who feel aggrieved against Okorocha's government. In this realization, it is only rational and plausible for Imolites to collectively stand up now more than ever before to protect justice, rule of law, constitution and separation of powers by forging a consensus towards voting out the Governor who is evidently determined to slide Imo into a fiefdom and at worse, Hobbes state of nature where life is lamentably " brutish and short ".
Please follow and like us:
Short URL: http://www.africanexaminer.com/?p=22392