Dasuki: Group Urges International Community to Check Buhari's Rights Abuses
Featured, Latest News, News
Thursday, November 26th, 2015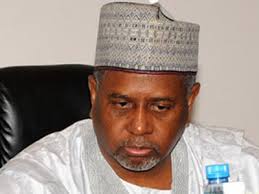 The international community,  human rights groups,  and amnesty international have been urged to pay close attention to human rights abuses by President Muhammadu Buhari or have a Syria on their hands.
They warned that unless Buhari was checked early,  his actions may have devastating consequences that could go beyond our borders like Syria
The group, Leaders and Accountability Initiative , in a statement in Abuja,  maintained that Buhari if today is not different from when he was a military dictator.
In the statement signed by Country coordinator,  Prince Henry Nwazuruahu Shield and scribe, Elder Ndem, the group cited examples of the violation of the rights of ex NSA,  Col. Sambo Dasuki ( rtd ),  ex CSO to Goodluck Jonathan,  Gordon Obuah, invasion of the Akwa Ibom State Governors lodge,  and raid on the residence of ex Sokoto governor,  Attahiru Bafarawa by agents of Buhari.  
It said " Buharis dictatorship was earmarked by chilling human rights abuses which included draconian decrees exemplified by Decree 20 under which the judicial murders of Nigerian citizens, Lawal Ojuolape, Bernard Ogedengbe and Bartholomew Owoh were authorized by Buhari. Particularly, Ogedengbe was murdered for a crime that did not carry the death penalty at the time it was committed in violation of the universal revulsion of ex post facto laws."
"After celebrating fairness , due process, and the rule of law last July to win the goodwill of the United States,  Buhari returned to Nigeria to do what he knows best. He went after perceived opponents in the name of fighting corruption. Prominent was the  vendetta against  Dasuki, and former CSO to Goodluck Jonathan, Gordon Obuah.  The latter nearly died in DSS's custody …He placed Dasuki under house arrest, confiscated his passport , charged him with fire arms and money laundering violations, and sought a secret trial to prevent independent scrutiny.
"Justice Adeniyi  Ademola explained that an accused is presumed innocent before the trial , and that a citizen's health is paramount before the law. Buhari was ordered to release Dasuki's passport , the order was defied. He put Dasuki's house under siege, a microcosm of the Bosnian Serb siege of Sarajevo. Dasuki returned to court Justice Ademola reaffirmed his order, asserting " my own orders will not be flouted"
The group maintained that "it is instructive to note that while the government should recover monies stolen by past government officials, and thereafter prosecute those found wanting, the Federal government's anti corruption agencies must not violate the fundamental human rights of the people."
It said further "Dasuki is yet to travel anywhere because he is technically barred by the Department of State Services (DSS). The Air Vice Marshall O. N Ode (Rtd) panel set up to probe the arms deals has already submitted an interim report indicting Dasuki and a host of others, subsequently, their arrests was ordered by Buhari."
According to the group "wether there is substance in the allegations of fraudulent arms contracts leveled against Dasuki, or not, the fact is that the DSS's tough action ordered by Buhari has done violence to standard rules and procedures of investigations."
"To make matters worse the Attorney General and Minister of Justice, Mustapha Malami, instead of protect the rights of citizens, says the detention of Dasuki is in public interest.
His weird argument "It is not enough to conclude that the order was flouted. You have to look at the peculiarities of the prevailing cases on ground . You can be granted bail with respect to one case and there can be other cases that public policy demands investigation.
"he Washington  Times had few months ago indicted President Buhari over the current ordeal of a former National Security Adviser, Col. Sambo Dasuki rtd, despite the  subsisting court order that which granted him permission to embark on a medical trip abroad." The group recalled
"The consequences of not respecting such rights often have devastating consequences that that could have chain reactions outside the borders of the affected nations, like is being experienced in Europe with the mass migration from the middle east."
"such wanton abuse and disregard of people's rights  hampers development, and could envelop the nation in a huge tragedy of global proportion, the agitation by the Independent Peoples Of Biafra suffice."
Please follow and like us:
Short URL: http://www.africanexaminer.com/?p=27940