Death Toll Now Over 200 In Ghana Inferno
African News, Latest News, News
Thursday, June 4th, 2015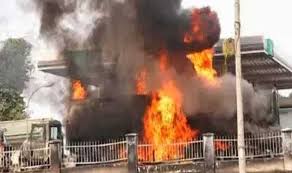 …As Interior Minister Says Incident "Not A National Disaster"
By Tajudeen Balogun, Head, African Examiner, Nigeria Bureau, with Agency Report
The death toll at a gas station which went on fire, Thursday morning in Accra, the Ghanaian capital has risen to over 200.
Editor of a Ghanaian National daily – Daily Guide, Fortunes Alimi quoted the Interior Minister, Mark Woyongo as saying: "With death toll now standing @ over 200, the Accra catastrophe is not a national disaster".
Earlier while on a visit to the scene of the fire, Ghanaian President John Mahama appealed for calm as he promised authorities would try to cope with the relics of the fire and the flooding.
While condoling the families of those who lost their lives, Mahama hailed rescue workers at the site for their resilience and efforts to save lives.
Initial casualties was put at over 90 people according to the Fire Services.
The fire erupted just as residents of Accra were still engaged – trying to cope with two day torrent rainfall which has resulted in flood; rendered many homeless as well as put the power supply at almost zero.
Friction by those clearing water inside the gas station was suspected to be the cause of the fire.
Please follow and like us:
Short URL: http://www.africanexaminer.com/?p=23895