Demolition:Traders Protest Against Oba Ojora
Latest News, News
Monday, May 18th, 2015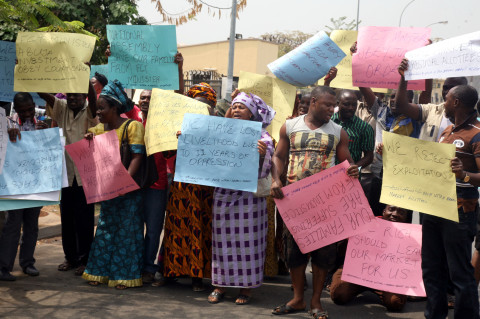 Market men and women from Idi-Ose Market in Apapa area of Lagos, Nigeria on Monday protested vehemently at the Lagos State House of Assembly over the planned demolition of their market by Oba Fatai Aromire Ojora.
The traders, about 100 said the royal father had given them till Thursday 21 May, 2015 to vacate the market or they should be ready to have their property destroyed.
The protesters were branded with posters, some of which read: "Oba Ojora wants to become Baba Oja," "Oba Fatai Ojora, stop harassing Idi-Ose market, Your Wahala too much," "Lagos! Save our souls from Oba Ojora from selling Idi-Ose market to a hotelier," "Oba Fatai Ojara, leave Idi-Ode market alone, don't sell it to hotelier" and many others.
Spokesperson of the protesters Iyaloja-General of Apapa-Iganmu, Alhaja Nike Owoseni said she got the information about the proposed demolition last week and she has appealed for peace, adding that as the Leader of not less than 16 markets under her domain, she has been making move to resolve the impasse.
"When they called me on Thursday that they wanted to pull down the market, we went to police station to complain and we tried also to see the Oba but we were told that he was engaged in a festival. So I told my people to maintain peace.
"This morning, I was called again that some youth numbering about twenty were in the market harassing the traders. Our people wanted to retaliate by fighting them but we had to appeal to for calm," she said.
Secretary of Idi-Ose Market, Pastor M. A. Adeoye said the Oba was maltreating them as slaves, saying that the threat to vacate the market has been on since last year.
Adeoye  said the traders were worried over the audacity of the traditional ruler to order closure of the market that has been approved by the government,as the power to give such order should have come from a local government authority.
Speaker of the Lagos State House of Assembly, Adeyemi Ikuforiji who was represented by the Chairman House Committee on Information, Strategy and Security, Segun Olulade promised that the House would intervene to resolve the issue.
Please follow and like us:
Short URL: http://www.africanexaminer.com/?p=23577