Dimeji Bankole's Daughter Dies Of Sickle Cell
Featured, Latest News, News
Friday, October 3rd, 2014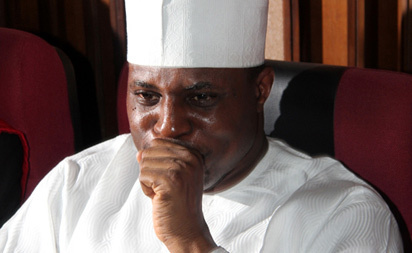 The six years old daughter of former Speaker, House of Representatives, Dimeji Bankole has died of Sickle Cell disease, says the family.
The late Semiat Bankole was the first child of the family but has Sickle Cell.
A statement issued by the Bankole family on Thursday said the little girl died on 1 October in London when the nation was celebrating her independence.
"With gratitude to Almighty Allah and with heavy hearts, we announce the demise of our daughter Yewande Semiat Bankole, aged 6 years, at St Mary's Children's Hospital, London on October 1, 2014," it stated.
"She was a radiant girl who struggled with the disease and her condition was originally managed at a Lagos hospital, but she was later transferred to a London hospital where she eventually died," the statement added.
The late Yewande was born with HbSS Sickle cell disease.
Please follow and like us:
Short URL: http://www.africanexaminer.com/?p=18215