Disqualification: Adamawa Acting Governor Rubbishes Mantu's Committee Report
Featured, Latest News
Sunday, August 31st, 2014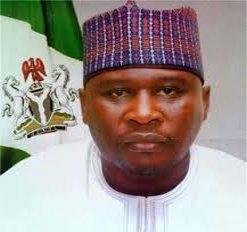 Agabus Pwanagba, Jos
Following his disqualification from contesting the gubernatorial seat of the State in the forthcoming bye election, the Acting Governor Hon. Ahmadu Umaru Fintiri has said the Ibrahim Mantu led committee has no legal and constitutional powers to disqualify him.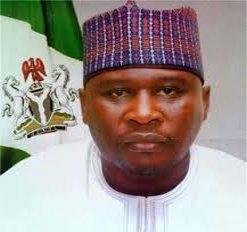 Fintiri in a press statement signed by his Chief Press Secretary, Solomon Kumangar and made available to African Examiner on Sunday, stating that the issues surrounding his non-clearance by Senator Mantu led screening committee have been resolved.
He called on his teeming supporters and loyalists in the party not to rest on their oars but continue to mobilise for the delegate's election scheduled for Monday 1st, September, 2014 as he is still in the race.
The statement reads, "The so called disqualification from the race as widely touted by the Chairman of the committee (Senator Mantu) lacks legal locus standi.
"There was no ground under the statutes of the party to take such an arbitrary decision.
It further said, the Acting Governor is confident, that his eligibility to contest is unquestionable because the decision not to clear him had no political or legal precedence.
The statement also drew attention to the fact that the decision to withhold his clearance on moral ground could not stand because aspirants who just returned to the party were granted waiver on the promise of fairness and justice.
"Where is the fairness or justice to the man who reclaimed the party's mandate and wiped shame from the faces of all the Adamawa party big wigs, who failed to do so in the first place? It asked.
"If Fintiri as speaker was able to remove Nyako and secure the PDP's chance to reclaim Adamawa State, a State that is on the verge of being captured by the APC, then this is time to reward him. The statement stressed.
Fintiri has expresseed unflinching loyalty to PDP, therefore urged electorate to rally out the big party that meant well for Nigerians for more dividends of democracy.
However, in a related development, the Chairman of Fintiri's Campaign Organization, former Deputy Senate Leader, Senator Jonathan Zwingina while briefing journalists in Yola on Sunday that, the organization is in support of the appeal of its aspirant (Fintiri) over the decision to disqualify him by the screening committee.
Zwingina said as a law abiding citizen, their aspirant will be calm and await the final resolution of the case which will no doubt be a positive one because legally and constitutionally Fintiri qualifies to contest the bye-election.
Please follow and like us:
Short URL: http://www.africanexaminer.com/?p=16871