Dr Wiebe Boer Resurrects Nigeria's Football History in New Book
African News, Latest News, Sports
Tuesday, June 12th, 2018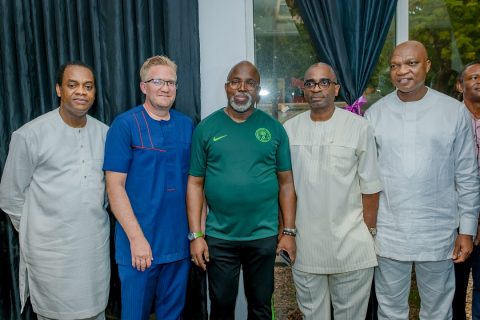 L-R: Donald Duke, former Governor of Cross River State; Dr. Wiebe Boer, author of THE HISTORY OF FOOTBALL IN NIGERIA; Amaju Pinnick, President of the Nigeria Football Federation (NFF); Olusegun Awolowo, MD, NEPC; and Osagie Okunbor, MD, SPDC

 at the formal presentation of Dr. Boer's new book about the history of football in Nigeria, released in Lagos ahead of the start of the 2018 World Cup  
_________________
(AFRICAN EXAMINER) –   Dr Wiebe Boer, in collaboration with renowned publishing house BookCraft, has released a new book on Nigeria's most popular pastime: A Story of Heroes and Epics: The History of Football in Nigeria.  The book, which was launched on Sunday June 10, 2018 at Freedom Park, Lagos, at a formal presentation ceremony ahead of Nigeria's participation at the FIFA World Cup in Russia, traces football's origins in Nigeria to Calabar in 1904. It mirrors its eventual rise to prominence as a national sport and goes beyond its history to highlight the influence of football in shaping Nigerian consciousness and building the nation.
In his book, Dr Wiebe Boer meticulously examines the people, places and events that led to the widespread acceptance of football in Nigeria. He provides a complete and compelling story, from the game's initial introduction and popularity in Calabar and its spread to Lagos, Zaria, and beyond, to the first meeting of the Nigeria Football Association (NFA) in 1933 and the establishment of the Governor's Cup in 1945. The book also explores the exploits of Frederick 'Baron' Mulford, Nnamdi Azikiwe and Nigeria's other founding fathers, as well as Captain Etim Henshaw, Titus Okere, Teslim Balogun, John Dankaro and the members of the first Nigerian national team who toured in England in 1949. These heroes played major roles in making the game the national sport that it is today.
Chronicling a myriad of actors and events, the book traces how football has come to be a uniting force among Nigerians, reaching across the lines of religion, tribe, location and language that separate the country and pulling Nigerians together like nothing else does. Specifically it shows how this happened, with a narration of events from decades ago and highlighting  their significance and relevance in contemporary Nigeria.
Dr Wiebe Boer, the author, was born in Jos to Dutch missionary parents and was raised in Taraba and Plateau states.  He has spent the majority of his life living and working in Nigeria. With A Tale of Heroes and Epics, he sheds light on a forgotten part of Nigeria's past, and tells a positive, unifying and national history of the sport in this country. In his remarks during the presentation he stated, "This book was written because of my love for Nigeria and for Nigerian football due to the power of the game to unite Nigerians.  However, we must build on this and create other arenas where we find common ground for our unity."
A Tale of Heroes and Epics has been lauded as an indispensable contribution to the Nigerian story, and a compelling journey into the history of a game that has helped to define and unite the country. At the public presentation of the book in Freedom Park, Lagos Island, Donald Duke, who wrote the book's foreword, commented, "This book is not just a history of football.  It is an important history of Nigeria as a whole and everyone should read it."  Shehu Dikko, the Chairman, League Management Company and Vice President, Nigeria Football Federation (NFF) in his remarks at the presentation added, "the story of the importance of football to our history and our unity that this book traces is still the same today.  Last year, a match between El Kanemi Warriors and Kano Pillars in Maiduguri attracted 50,000 fans inside and outside the stadium in spite of the insurgency and the reality that few of the players were from Kano or Bornu.  Nothing but football can bring people together like this in Nigeria."  Nigeria Football Federation (NFF) President Amaju Pinnick who attended the presentation before traveling out to Russia for the World Cup, also heralded the book, commenting, "We consider this excellent book part of the official archive of Nigeria's football history.  We will share this with all our state level FA's so that they too can know where it all started."
The book sold out before the conclusion of the public presentation.  The publisher promised that more copies are on the way and encouraged people to pre-order copies from online Nigerian bookstore Roving Heights (https://rhbooks.com.ng/).
Please follow and like us:
Short URL: http://www.africanexaminer.com/?p=44476