Drama as Judge Withdraws from Treason Trial Against Pro-Biafra Activist, Nnamdi Kanu
Featured, Latest News, News
Wednesday, December 23rd, 2015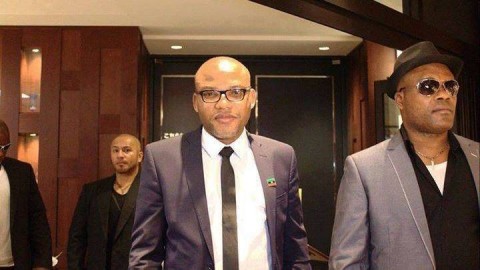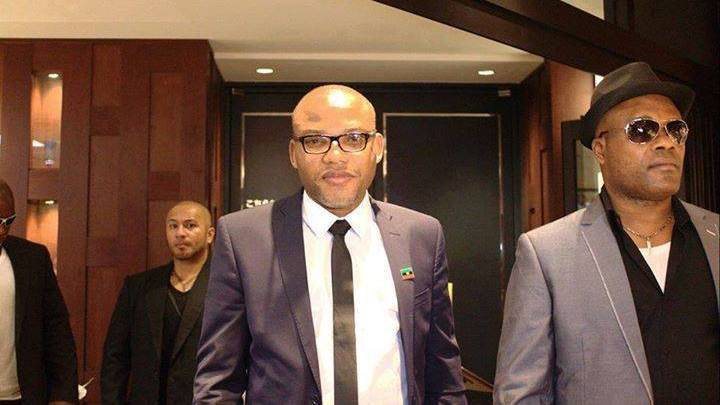 By Ayo Balogun, Abuja
BALTIMORE, MD (AFRICAN EXAMINER) – Justice Ahmed Mohammed of the Federal High Court Abuja has washed his hands off the trial of Independent People of Biafra (IPOB) leader and Radio Biafra Director Nnamdi Kanu.
Justice Mohammed took the decision following Mr Kanu's statement in court that he did not have confidence in the court and he doubted if the Judge would conduct a fair trial.
Kanu and others, Benjamin Madubugwu and David Nwawuisi were arraigned on a six-count charge of treasonable felony, managing unlawful organization, illegal possession of firearms, among others.
At the commencement of the trial on Friday, Mr Kanu was granted permission to address the court and he said: "I'll not sacrifice the due process founded upon the principle of natural justice on the altar of speedy release from detention. I will rather remain in detention than subject myself to a trial that amounts to perversion of justice. There have been several rulings delivered by competent courts of jurisdiction, which the DSS never respected."
But government prosecutor Mohammad Diri objected to Kanu's argument, insisting that it was not within the liberty of a defendant to pick his court of trial.
Justice Mohammed however overruled Diri's objection and held that a defendant had the right to pick the court to be tried.
His words: "Justice is rooted in confidence. If a party has no confidence in this court, he has the liberty to say so. If it was the prosecution who did not have confidence in the court, will it not say so? Section 396(2) of the ACJA has nothing to do with the nature of objection raised by the first defendant. He is not challenging the competence of the charge, but his lack of confidence in the court to try him."
Following the Kanu's objection, Justice Mohammed stepped down from hearing the case and return it to the chief judge to assign the case.
Please follow and like us:
Short URL: http://www.africanexaminer.com/?p=28869