Drama As Senate Passes Vote of Confidence on Saraki, Threatens to Sanction Dissenting Senator
Featured, Latest News, News
Tuesday, September 29th, 2015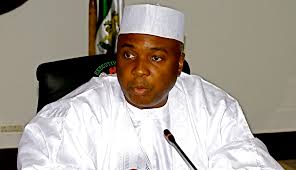 Ayodele Afolabi Abuja
BALTIMORE, MD (AFRICAN EXAMINER) – The Senate has passed a vote of confidence on its leadership comprising the Senate President, Bukola Saraki, Deputy Senate President, Ike EKweremadu and all the principal officers amid protest from Senator Kabiru Marafa ( APC Zamfara Central) for a second times in the life of the 8th Senate.

A total of  83 senators passed the vote of confidence yesterday , comprising of 48 PDP and 35 APC senators.

Aside the vote of confidence passed on the senate leadership, the senate through the 83 senators also called on innocent Nigerians , groups and political associations not to allow themselves to be used by any person or persons to harass , intimidate or blackmail the senate, senators and its leadership.

Motion for the vote of confidence was moved by Senator David Umaru (APC Niger East) and seconded by Senator Ahmad Sani Yerima ( APC Zamfara West) .

Umaru in the motion submitted that the provisions of the 1999 constitution as amended, guarantees the separation of powers and independence of the legislative arm of government .

He argues that the 83 senators note with dismay , the attempt and continued interference in the internal affairs of the senate by detractors and media propaganda against senators, the senate and its leadership by selfish politicians.

He pointedly urged  the senate not to allow itself to be distracted , deterred, or succumb to cheap blackmail in the course of carrying out its constitutional responsibilities by any individual or group , under any pressure or guise for personal political interest.

A submission concur to, by Senator Ahmad Sani Yerima who said "Nigerians have elected us here and nobody else can dictate to us from outside on who to make as our leader in any capacity.

"If anybody is dreaming outside this chamber to bring about any change in our leadership or direct the senate in anyway, the person should go and sleep".

Aside Yerima , some other senators also supported the motion before it was finally passed through voice votes.

But Senator Kabiru Marafa who before the endorsement of the confidence  vote by the senate , attempted to kick against it through a point of order, later raised orders 53(5) and 58 to kick against the decision taken.

Marafa contented that  the Senate President , Bukola Saraki should have recognized him to speak before putting the motion for vote but Saraki repeatedly told  him to read order 53(6) , which states that senators cannot raise any matter that had already been ruled upon by the senate during the same session.

But Marafa kept to his gun by remaining on his feet and condemning the process upon which the vote of confidence motion was passed.

A situation that made Senator Hamma Misau ( APC Bauchi Central ) to shout on him to sit down which resulted into  verbal missiles between them and rowdy session in the senate for about 10 minutes.

The tensed atmosphere was however calmed down when senators Olushola Adeyeye ( APC Osun Central) , Gbenga Ashafa ( APC Lagos East) and Olalekan Adeola ( APC Lagos West) succeeded in leading Marafa out of the chamber for peace to reign.

Before progressing with its proceedings after Marafa had been led out of the chamber, the senate through the Deputy Senate President, Ike EKweremadu ( PDP Enugu West),  gave a strong warning to Marafa over his conduct and threatened to sanction him.

He said: "There is provision for suspension of a senator . It has been used once during the 4th Senate when Authur Nzeribe was suspended and it can still be used on any senator who chooses to be unruly".

Please follow and like us:
Short URL: http://www.africanexaminer.com/?p=26053