EDITORIAL: Health Minister, No Backsliding; No Compromise Please
Editorial, Featured, Latest News, News
Friday, September 5th, 2014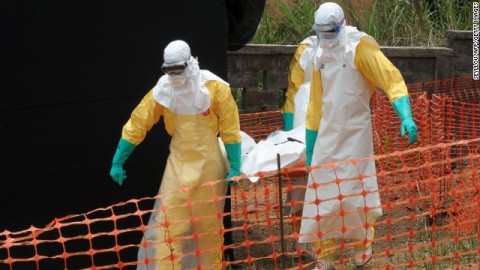 By Tajudeen Balogun Head, Nigeria Bureau, Lagos
Despite the painful casualty, efforts taken so far by various arms of the Nigerian Government and their agencies on managing outbreak of deadly Ebola Virus Disease (EVD) in the country have been very commendable. The established synergy among the constituted authorities,  health institutions and stakeholders with respect to handling of confirmed and suspected victims; management of information, creation of public awareness as well as mobilization for personal and public hygiene is encompassing, superb and properly coordinated.
Again, one very important aspect that also calls for praises is total lack of politics in the way various stakeholders have been attending to and handling the established or suspected virus cases.
It is similarly gladden to hear that the sum of N200 Million supportive fund promised Lagos State Government – (first that recorded EVD casualty in Nigeria), by the Federal Government few weeks ago had since received the money. This is very unprecedented of Nigerian Government (past and present) reputed for a long delay in release of such fund owing to the claimed administrative and bureaucratic bottleneck and sometimes, political difference.
The zeal so far applied in fighting Ebola in the country has been exemplary such that accolades have been coming from individuals and various interest groups. Notably among them is the National President of Nigeria Labour Congress (NLC), Comrade Abdul Waheed Omar. He was quoted penultimate the week that, if the Federal Government had deployed similar doggedness and resilience on the war against Ebola to the dreaded Boko Haram insurgency, which had held the country hostage in the last five years, the Militants and their dreadful activities would have been properly tackled and since been rested. The statement by the labour leader is very instructive anyway.
Ebola is frightening, deadly and rampaging all over the world, although the West African sub region is presently the worst hit of the 38 years old disease. Since its outbreak in March this year, the World Health Organization statistics indicates 1,900 people have fallen victims, with Liberia recording almost 700 casualties – the highest in the world.
WHO Spokesperson, Fadela Chaib has confirmed that EVD would last till next  year as the agency was currently working on a blueprint to stamp it out in the world. Not few were worried about the news as expectation is that the disease would soon go into extinction within shortest period of time. Yet, among the signals information like this is sending is that no effort should be speared and nothing should be taken for granted in managing and checking Ebola.
In the view of the red alert, it makes sense for the Federal Government on August 12, to have approved the extension of the current holiday of primary and secondary schools across the country until further notice. Many parents and guardians hailed and gave kudos to the government decision as they posited the preventive measure was timely and very important, rather than gambling and exposing the young souls to avoidable risk.
However, the unexpected happened early in the week , when on Wednesday, the Minister of Health, Professor Onyebuchi Chukwu, hinted students in private and public schools in the country may resume from holiday by middle of September instead of October 13, as earlier announced.
The Minister explained the reversal became necessary following the recommendation of a body of experts set up by government to look at the extension of resumption dates, who he claimed concluded that the alert level of the virus in the country has appreciatively dropped.
According to him, once the meeting with the Minister of Education and state Commissioners for Education as well as other stakeholders is convened, there is likelihood that the new date for school resumption will be approved and made public.
First, on the dropped alert level of Ebola; it is very difficult to fathom how true is this claim. Just last week, the country confirmed its sixth Ebola casualty – Dr Dr Ike Enemuo, who died on August 22 in Port Harcourt, the Rivers State capital. Again, the seventh casualty was confirmed earlier this week.
As we speak, Health Minister has confirmed some suspected EVD victims are still under surveillance both in Port Harcourt and and Lagos isolation centres. All other states of the Federation are presently under fear of recording case (s) of Ebola and have therefore put measures in place to attend to it.
Ahead of decision to review the extended resumption date of schools, the general public is fully aware about the disdain and stiff opposition of the private school owners to the extension date. They have  complained the development would affect their business, therefore vowed to protest and ensure the decision did not stand. Ever since, many steps known and otherwise have been taken by them – private school operators.
Here we are again – Nigerians preferring personal interest to the common and national's. Is it not clear enough that these operators by their aversion and lobbies which has resulted to the government's backsliding, are ready to take necessary risk just for self seeking profit? And will the government finally and gullibly be influenced by their misgiving?
As the Federal government is unfortunately about to fiddle with a very sensitive issue like Ebola, on which it has earlier received pass mark, the Liberian Government has since before the close of the last academic session directed closure till now, of all schools in the country. In the same stead, the government has just directed that public servants should stop resuming their offices, of course with promise to pay them despite the situation.
Many other countries are also on guard to prevent further spread or outbreak of the virus. For example, Saudi Arabia Kingdom has announced it would not grant visas to workers from some of the affected West African countries.
What the private school owners consider a challenge should not be. If they are scared about their evaporating bank accounts, which are usually active this period (September), they should for God sake, console themselves and take solace in the fact that the measure is just temporary; that they have not been told to close 'shop', therefore the anticipated naira rain will eventually fall and they will  as usual smile homes when rampaging virus cases in the country are  totally managed. They should please know that it is better they make money and be happy, rather than making the money and mourning.
It is in line with this the Federal Government should not sacrifice the lives of young ones for the business interest of very few selfish individuals who appear to have succeeded in their treacherous advance to the government.
Finally, the relevant arms of government in this matter are the Ministers in charge of Health and Education. Therefore, they must sustain their affection for the parents, safety of the children and the nation as a whole, hence, stand on the truth and refused to necessarily get dissolved. In particular, the Health Minister who had done very well on this matter and his Education counterpart, Mallam Ibrahim shekarau who is a reputable and veteran education administrator should not fail in this national assignment. If they did, they will dearly be held accountable. So, the Honourable Ministers, on EVD, it is no to backsliding and compromise please.
Who is Olisa Metuh, PDP Trying To Impress?
In this sub piece, I risk being tagged a paid opposition agent. Still, I take comfort in the previous critical, fair and balance editorial commentaries by me in this column.In fact, today's main comment is another good example.
I have once done a focus on the ruling PDP's National Publicity Secretary, Olisa Metuh on excessive display of bias and emptiness in his political public communication.
Reference to my piece titled: "Olisa Metuh Should Be More Cautious And Reasonable" which was posted on June 8, 2014. In it, I have faulted Metuh as playing politics with insurgency issue and the lives of the of over 200 Chibok Secondary School girls as well as the need for him to exercise always restraint whenever he is commenting on very sensitive issues of public and national interest. Perhaps after a deliberate brake, Metuh is back again with his 'lightweight' and baseless comments.
Everyone knows the ruling PDP and APC have been at loggerheads with respect to who harbours the financiers of the dreaded Boko Haram militia group. Similarly, not only Nigerians are keen about the sponsors being identified and named. The revelation last Thursday by the Australian Federal Government foreign – negotiator, Dr. Stephen Davis which indicted a PDP stalwart and former Governor of Borno state, Ali Modu – Sheriff and former Army Chief, Gen. Azubuike Ihejirika, as suspected sponsors of the militants has prompted some development in the polity.
Expectedly, the opposition addressed a press conference, exonerated itself and demanded for prosecution of the accused. Regrettably, the statement made by Chief Jonn Odigie-Oyegun drew the wrath of Metuh and his party – PDP. Metuh hauled a huge salvo at APC national head as well as the party – describing their comments and reactions to Davis revelation as "lacking validity, character and intellectual contents".  I see. When would they have made sensible comments?
Did Metuh expect APC who has been strongly and repeatedly indicted and accused of of sponsoring the insurgents group to keep quiet after the shocking revelation? Is a demand for investigation and prosecution of the accused of this heinous crime should be considered political in actual sense? Can Metuh tell the world why Dr. Davis's findings and recommendations were not made public ahead of last Thursday interview? Does he also know why the security agencies declined the President's directive to investigate  findings of Ambassador Usman Galtimari Panel of investigation which indicted Sheriff? At best, Metuh's reckless mantra can be described mere rant and very unpatriotic.
Metuh, just like many other political appointees in President Jonathan's government, latest remarks has failed to address the real issue, rather, was just whipping sentiments and playing on intelligence of Nigerians. This is too bad of Metuh and his party, especially as the issue involved is about the lives of harmless citizens and a threat to the corporate existence of the country. Metuh sits in Abuja, with all the luxuries, busy wasting efforts and energy on frivolities, while the insurgents, his party has failed to check are rampaging and capturing towns, yet expected Nigerians to believe his deceits.
Metuh and his party should instead come to terms to the fact that, Nigerians have made up their minds, that his party and its leadership have nothing to offer than rhetoric as being played out, as far as the insurgency is concerned. He should know that Nigerians have confirmed lack of sincerity of purpose in resolve and commitment by the present administration to fight Boko Haram. They have therefore resorted to fate that in Nigeria, it is 'Everyone to himself, God for all'. So, no matter what Metuh says, Nigerians are not impressed – he and his party are on their own.
Email:tjaysuccess10@gmail.com; Twitter:@tajudeen balogun

Short URL: http://www.africanexaminer.com/?p=17035