Eid-El-Kabir: Fashola, Lagos Muslims Observe Prayer
Latest News, News, News From The State
Saturday, October 4th, 2014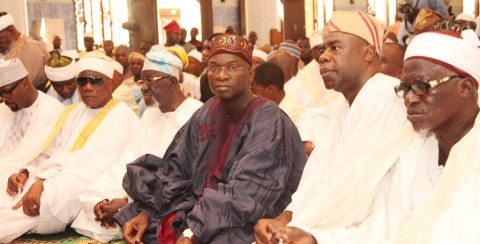 Lagos State Governor, Mr. Babatunde Fashola and thousands of Muslim faithful observed the Eid-El-Kabir prayers on Saturday at the Lagos Central Mosque, where the governor said there is hope for the nation.
The governor said the future of Nigeria lied in the hands of Nigerians who must be willing and ready to salvage the nation from its quagmire.
"First, I use this opportunity to wish all Muslims Eid Mubarak and all Nigerians peace, but whatever we want for ourselves lies in our hands to achieve. I am sure that all will be well and it must be well only because we want it to be well. If it is well within us, it will be well around us and in our nation," he stated.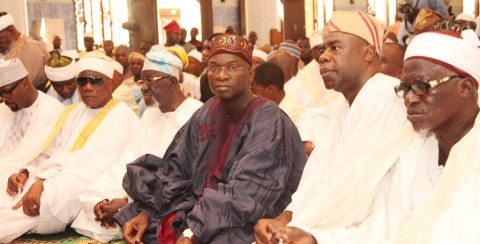 Fashola said Nigerians must be grateful that they were still alive after a thorny period in the nation's history.
"Really, you must be grateful that you're alive and so, the last one year, everyday has been a season of countless blessings in spite of unwanted developments, but live goes on and as long as one is alive, you must remain grateful for many things; peace, love, well being and so long as there is hope, yesterday's challenges can become history about how we turn things around.
"Those things should never overcome us and being alive means that there is a possibility to learn from yesterday, to improve upon today and to turn around tomorrow because really, builders look to tomorrow and we must be builders in our minds, we must be builders in our actions, builders in our actions and in our thoughts and in our general disposition and therefore, tomorrow we can build from today," he added.
Also, in his message to Nigerians, Fashola called on them to return to the values of peaceful co-existence, brotherly love and personal and environmental hygiene as Nigerian Muslims join their counterparts worldwide to celebrate this year's Eid-el-Kabir.
Fashola said the nation needs brotherly love and harmonious co-existence among her citizens today above all other things as a means to overcome the numerous challenges threatening her fledgling democracy, especially the challenge to security.
The Governor, who noted that the spirit of Eid-el-Kabir resonates around the virtue of sacrifice, also enjoined Nigerians to rededicate themselves to the service of the nation pointing out that it is only in the spirit of brotherly love and dedication to national service that Nigerians could build the desired nation.
Advocating unconditional love, sharing, forgiveness and championing of the cause of the weak and the oppressed as well as the vulnerable, Governor Fashola enjoined all Nigerians to use the occasion of this year's Eid-el-Kabir to reflect on affairs in the country and the challenges confronting her, especially those bordering on the peace and security of life and property of her citizens.
"As we celebrate this auspicious occasion, therefore, let us renew our faith in our nation and implore the Almighty Allah to restore to us those values that place high premium on human life, love of neighbour and sharing even as we ventilate our faith in the unity of our dear country and the possibility of her taking her proper place in the comity of nations", the Governor urged.
Please follow and like us:
Short URL: http://www.africanexaminer.com/?p=18291