Ekiti 2014: Fayemi Condemns Arrest of Party Stalwarts, Demands Obanikoro, Adesiyan and Uba to Leave the State
Latest News, News, News From The State, Politics
Saturday, June 21st, 2014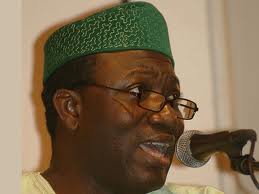 The Ekiti State Governor and APC candidate in the ongoing gubernatorial election has decried the harassment and arrest of his state party stalwarts.

Fayemi expressed the reservation while addressing journalists after casting his vote in Oye local council area of the state. He lamented that the ruling party members were targeted and being rounded up last night for the offences which evidences were not yet provided by any government or security agency.

Another area of concern is what the governor described as presence of "busy bodies". Governor Fayemi bitterly and vehemently complained about the presence of the trio of Minister of State for Defence, Musiliu Obanikoro, Minister of Police Affairs, Jelili Adesiyan and Anambara PDP stalwart, Chris Uba. The governor complained they have sighted them moving around the state for undefined mission. He added he did not know what business they had in the election which has started across the state few hours ago.

Fayemi also said that it has been alleged that the planned hatchet job was to use Special Forces to destabilize the exercise.  He contended that the trio must be moved out of the state. The Governor said in the main time, the Inspector General of Police, Muhammad Abubakar as well as head of State Security Services (SSS) have been intimated about the development. He added if the situation escalated beyond expectation, the President would be contacted.

Meanwhile, the exercise African Examiner learnt has been generally peaceful without skirmish. Also, reports indicate that voting has concluded in some polling units and wards, hence the commencement of counting and collation of results.
Please follow and like us:
Short URL: http://www.africanexaminer.com/?p=13149