Ekiti/DasukiGate: Obanikoro Denies Hiding Report; Demands His Family Should Be Left Alone
Featured, Latest News, News
Tuesday, December 29th, 2015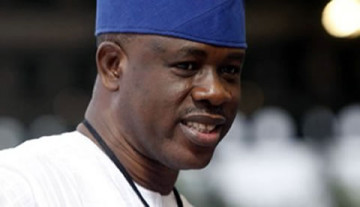 Following a media report that he is hiding in the US so as to escape being prosecuted over his involvement in the misappropriation of $2.1 Billion arms purchase scandal, by the immediate past administration, former Minister of State For Defence II, Musiliu Obanikoro has taken a swipe on the news website title and warned it not to drag his family into the ensuing controversies.
Obanikoro who took to his Facebook account Tuesday in reaction to Monday report, retorted that he would not have obliged "a response to the baseless and shameful journalism it (the title) practices, but there is a limit even to new media madness".
The controversial Minister said "dragging my children into your deliberate campaign and onslaught against my person, however will not be ignored and I demand you cease and refrain from this practice and limit your scope to me only".
Contrary to the hiding report, 'Koro' as he is otherwise referred, who indicated that he has been in public service since 1992, and he "never owned or currently own a home anywhere in the world outside Nigeria", maintained that he was proud of his "son and his family who are private citizens for their accomplishment as they have the right to do so".
He claimed he still have a case against the news website and its owner "filed at their "Hide Out" in the State of New York, and this will certainly add to the body of evidence against this hack-journalism platform".
"Perhaps this is in retaliation to the suit, but be rest assured, I won't be deterred and will pursue this to a logical conclusion.
"While I remain open to answering any question on my conduct as a public servant in any administration at State and Federal levels in Nigeria, I urge responsible practitioners of Journalism to refrain from helping hack journalists bring their profession into disrepute with baseless rumours and the blind crusade of an already biased and bought media platform" Obanikoro counseled.
According to him, he has aspirations to further his education and it is in pursuance of this, he is currently doing a degree course in History at the Oglethorpe University, Georgia USA as well as "to Mentor the next generation of leaders in Nigeria".
It would be recalled Obanikoro played some inglorious roles in the Saturday, June 21 2014, last Ekiti Governorship Election, (the infamous action by him with others tagged the Ekitigate) as well as August 9, 2014 Osun State gubernatorial poll.
He was indicted by the report to have allegedly received, via different company accounts huge sums out of the arms money, from the office of former National Security Adviser (NSA), Col. (rtd) Sambo Dasuki to fund the two polls and last general elections for the immediate past President and his party.
Please follow and like us:
Short URL: http://www.africanexaminer.com/?p=28947