Electricity Tariffs: Fashola Appeals To Nigerians To Accept New Rates
Featured, Latest News, News
Monday, February 8th, 2016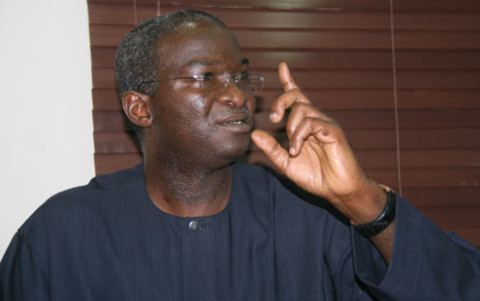 By Ayo Balogun
As the Nigerian Labour union bodies – Nigeria Labour Congress (NLC) and Trade Union Congress (TUC), staged a nationwide today, protest against the new electricity tariffs, Nigerians have been called upon to bear the pains and accept the rates.
Minister of Power, Works and Housing, Mr. Babatunde Fashola (SAN) made the call Monday in Lagos on the sideline of the February sectoral meeting with stakeholders in the power sector.
Mr. Fashola who also inspected some projects in Alagbon Transmission and Distribution Complex, described the new tariffs as "a painful pill," therefore appealed to the customers to swallow it. The new tariffs of about 45 per cent hike takes effect from last week Monday, February 1, 2016.
The immediate past Lagos State Governor indicated that he was fully aware that Nigerians who have been disappointed over a long time would feel a sense of concern that the electricity tariffs have gone up.
Still, Fashola insisted that the tariffs ought to have been implemented, stating "I don't know why the government of yesterday was not courageous enough to tell us this was the price".
Admitting it is a painful experience, the Minister appealed for some understanding and trust in the best interest of the country.
He picked holes in the manner certain aspect of privatization of the power sector was carried out. Fashola mentioned that among the several problems confronting the power industry included: "supply gas supply shortfall and transmission issue".
Fashola also pointed out that the problem of power cuts across and visible everywhere, The power challenge, he restated included transmission and the manner privatization exercise was conducted.
The Minister however declared that he would not lament on the past, rather, move on with it, saying "the first move we have made when we accessed the situation, nobody was happy with it when we took over".
"This is a problem that has been here for 16 years, if we put it mildly. It is a problem that has been here 100 years ago, if we put it really extremely. I have been here for less than a 100 days, and I think we can solve this problem if you give us the tools that we need to do it" Fashola stressed.
It would be recalled the workers' unions under the aegis of NLC and TUC in collaboration with civil societies and customers last week issued a notice of a nationwide protest, scheduled for today. The bodies berated the development and described it as a move targeted to enrich the selected few and further pauperize many Nigerians.
Please follow and like us:
Short URL: http://www.africanexaminer.com/?p=30050