"Enough Of Paying Lip Service To Shift Into Agriculture" – Buhari
Latest News, News
Friday, August 7th, 2015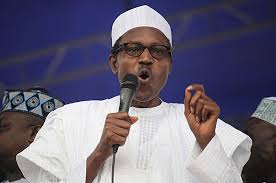 By Abdul Gaffar Bello – Nigerians have been urged to stop paying mere lip service to opting for agriculture, as crude oil and gas exports will no longer be sufficient as the country's major source of revenue.
President Muhammadu Buhari gave the advice Friday in Abuja during his audience with the Nigerian born President of the International Fund for Agricultural Development (IFAD), "Dr Kanayo Nwanze, at the Presidential Villa.
"It's time to go back to the land. We must face the reality that the petroleum we had depended on for so long will no longer suffice. We campaigned heavily on agriculture, and we are ready to assist as many as want to go into agricultural ventures," the President said.
In a release by his SA on Media and Publicity (Femi Adeshina), President Buhari pledged that his administration would also cut short, the long bureaucratic processes that Nigerian farmers had to go through to get any form of assistance from government.
Mr. President promised IFAD President that improvement of the productivity of farmers, dry season farming and creative ways to combat the shrinking of the Lake Chad would also receive the attention of his administration.
"There is so much to be done. We will try and articulate a programme and consult organizations like IFAD for advice," the President stressed, adding that foreign exchange would be conserved for machinery and other items needed for production, "instead of using it to import things like toothpicks."
In his address, Dr Nwanze congratulated President Buhari on his victory at the last general elections and assured him that IFAD was ready to give all possible assistance to the Federal Government and Nigerian farmers to boost agricultural production in the country.
IFAD is an international organization, dedicated to addressing issues relating to agriculture and poverty alleviation. It was established in 1978, and has since been collaborating with Nigeria for over 30 years.
Please follow and like us:
Short URL: http://www.africanexaminer.com/?p=24735