EURO 2016: Hollande Warns Against Attempted Strike Actions
Latest News, Sports, World News
Friday, June 10th, 2016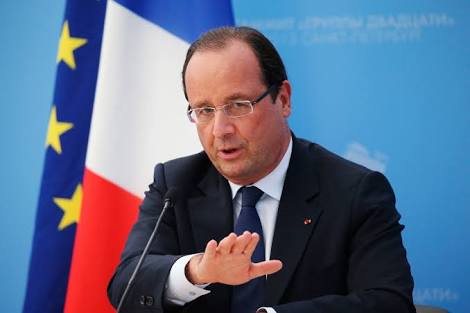 PARIS, FRANCE (AFRICAN EXAMINER) – As Euro 2016 kicks off, French President Francois Hollande has warned against attempts to disrupt the football Championship with strike action.
Hollande late Thursday, amidst strike threat by the train drivers, appealed for cooperation of every stakeholder.
"I appeal to everyone's sense of responsibility because if the state must do its duty – and it will, it will take all the measures that are necessary.
"At the same time, it is also necessary that those who are taking part in actions, or who are organizing them should also shoulder their responsibility…so that this great event can be a shared popular festival" Hollande stated.
He reiterated that everyone had a role to play in ensuring that the competition was allowed to proceed without incident.
There has been workers' industrial action, which is staged to protest against reforms to labour law.
Recently, train drivers are threatening to strike on a line serving the Stade de France in St Denis just outside Paris, where France play Romania in the first match.
Meanwhile, French authorities have confirmed that nearly 3,000 tonnes of waste have gone uncollected in Paris.
As parts of the measures to tackle the challenge, 50 refuse lorries were sent out overnight and 30 more are being dispatched Friday.
Still, there is a challenge of planned four-day Air France pilots' strike, set to start Saturday as many football fans fly in. Negotiations broke down Thursday but Air France Chief executive Frederic Gagey said he expected that between 70 and 80 per cent of flights would operate tomorrow.
England will take on Russia Saturday. As the preparations for this are ongoing, some England fans have been arrested due to a fight in Marseille.
In the process, police tear gas was fired after the incident outside a pub shortly before midnight on Thursday.
Please follow and like us:
Short URL: http://www.africanexaminer.com/?p=33473