Ex-Governor Elechi Opens Up On Why He Didn't  Support Umahi's governorship Ambition
Latest News, News Across Nigeria, Politics
Sunday, April 3rd, 2016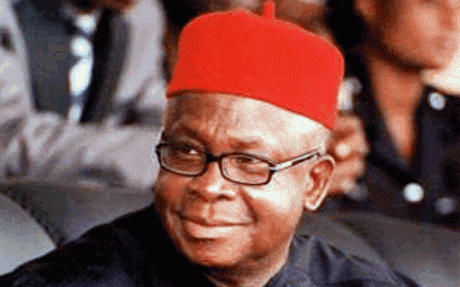 *Says He Lack Leadership Qualities
By IGNATIUS OKPARA, Abakaliki, 2-4-2016
At last, the immediate past octogenarian governor of Ebonyi state, Chief Martin Elechi, has opened up on why he backed a former Minister of Health, Prof. Onyebuchi Chukwu to succeed him, rather than his then Deputy, and incumbent governor of the state, Dave Umahi.
Elechi, who revealed this to newsmen at his country home, Echialike Ikwo noted that Umahi, lacked the spirit of accommodation and other leadership qualities expected of a person occupying such exalted office.
The media briefing came ahead of a thanksgiving church service being organized by former members of his state executive council and ex- council chairmen and friends.
Said the ex- Governor: "I have no apologies to anybody or to any group of people for what happened.
"I still stick to my conscience and to my belief that what I did in that circumstance is what I should do.
"Yes I made my point clear to him (Umahi) as early as September 2014 that I wouldn't support him because my observation showed me that he lacked certain qualities that we hold very high and very dear in governance; the spirit of accommodation.
"That whether you are in opposition or in government you have a right to be protected, you have a right to say your mind and somebody who opposed you was not necessarily your enemy or your opponent.
"We believe that everybody has the right to differ and if you don't accommodate people's quest to differ, it is a major minus to you in governance.
"But having said so, your destiny is your destiny, I have no control over your destiny, if it is God's wish that you become governor then you will be.
"That is my position, but whether that is appreciated or not, that it is a statement of fact, that it is a statement of sincerity, I do not know."
Elechi, regretted that instead of being allowed to enjoy a quiet retirement after his service to the state, his freedom has been curtailed as he now lives in bondage in view of the 54 petitions against him at the Economic and Financial Crimes Commission, EFCC.
The former Ebonyi chief executive, said that he is currently on bail, stressing that he has been restricted to his home and frequent invitation to Abuja to respond to the EFCC queries.
According to him, his major offense may have been his decision to anoint someone else as against his estranged former deputy as his choice of successor in office, an action he claimed, triggered series of political maneuvers that pitched him against Umahi, who was then backed by then federal might and the PDP national leadership.
The erstwhile governor, also noted that due to manipulations and total disregard to the  PDP's constitution as well as disrespect to ex-president Goodluck Jonathan's directives, the end of the political battle was predictable, as he was overwhelmed by the array of federal forces during the party primaries and the subsequent general polls, after his political structure was crushed.
Please follow and like us:
Short URL: http://www.africanexaminer.com/?p=31471