Fani-Kayode Says PDP Not Plotting To Implicate Jega, APC Leaders
Featured, Latest News, Nigeria 2015 Election
Wednesday, March 4th, 2015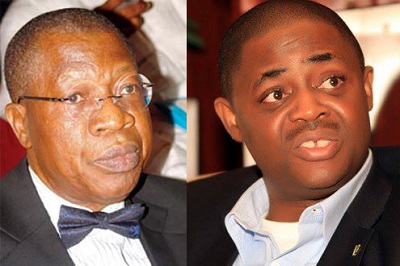 Ayo Balogun, Lagos – The Director Of Media And Publicity, PDP Presidential Campaign Organisation, Chief Femi Fani-Kayode has dismissed allegations that PDP plans to blackmail the chairman of the Independent National Electoral Commission (INEC) Prof. Attahiru Jega and some chieftains of the opposition All Progressives Congress (APC) to justify the call for the removal of the INEC Chairman.
The APC had accused the PDP of planning to deposit a huge sum of money into the bank account of the INEC chainman and claim that former Lagos state governor made the deposit arguing that PDP was plotting the plans to implicate Jega so he could be disqualified from conducting the forthcoming general elections.
In his reaction, Fani-Kayode told journalists in Abuja that all the allegations were false adding that it is not surprised that the APC is resorting to peddling falsehood in order to gain public sympathy.
His words: "The truth is that we are not strategizing to shift the election dates. We are not trying to frame up Jega. We have no plans to plant any illegal substance in the bags of any of the leaders of the APC whenever they travel. We are not trying to compromise the telephone numbers of any of the INEC officials.
"President Jonathan is not planning to arrest opposition leaders before the elections. The Presidency has not retained the services of any foreigner to corrupt or compromise INEC computers on Election Day and we are not planning to do any of the other reprehensible things that they have alleged.
"The truth is that if they were in our position, these are the sort of sordid things that they would do. Such dirty things and filthy tactics are a way of life and an art with them. But for us, such things are alien, perverse and unacceptable.
"This new smear campaign against the PDP-led Federal Government is clearly propelled by the fact that the APC knows fully that it has gone as far as it can go with its propaganda and deceit and that it will be thoroughly beaten by the PDP at the polls in the upcoming elections."
Please follow and like us:
Short URL: http://www.africanexaminer.com/?p=22537