Federal Taskforce Chases LASTMA Out Of Federal Roads
Featured, Latest News, News From The State
Monday, November 3rd, 2014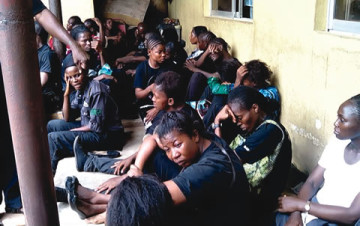 Officials of the Federal Taskforce have chased officials of the Lagos State Traffic Management Authority (LASTMA) out federal roads in Lagos, Nigeria.
Scores of officers recruited by the Subsidy Reinvestment and Empowerment Programme and the Federal Road Maintenance Agency, popularly known as SURE-P/FERMA Federal Task Force on Monday took over control of traffic in federal highways across Lagos state.
The incident forced LASTMA men out of federal highways to avert imminent clash. The Sure-P Task Force officers were seen around Ketu area as well as the Toll Gate, where their operation base is located. At least three officers were each stationed at various points within a distance of 10metres along the highways.
The officers dressed in black trousers and black t-shirts, looked business-like as they went about their duties. About 7000 officers engaged had been undergoing rigorous training and exercise at the old FERMA yard around the Toll Gate area for over five months.
A LASTMA zonal leader, who does not want his name mentioned said the SURE-P/FERMA taskforce stormed the road at exactly 7:00 am with sticks and iron metal to manage traffic on the Federal roads in the state, saying some of the roads they stormed were the popular Lagos-Ibadan Expressway, Ojota and Ikorodu road.
According to him, federal officers distorted traffic flow on these roads, especially the Lagos-Ibadan Expressway, as well as halted the activities of LASTMA official's on the road, saying that when LASTMA officers complained, they ordered that they leave the Lagos-Ibadan Expressway.
"Few minutes later when they discovered that our officials didn't yield to their directives, they attacked them. And our officials were forced to leave the Lagos-Ibadan Expressway. On October 23rd, they attacked a LASTMA official who was managing traffic on the Lagos-Ibadan expressway.
"They brought out guns and that made everyone to scamper for safety. On that day, motorist abandoned their vehicles to avoid attack. And today, their activities led to traffic gridlock on the road. In fact, the traffic didn't subside until 1:30 pm," he stated.
National Coordinator, SURE-P federal Task Force, Mr. Abdul-Razak Rafiu Otto stated that the taskforce was not established to foment trouble in Lagos as the body was set up to recover government's properties in Lagos and maintain traffic on federal roads, adding that the members of the taskforce were not thugs as being speculated in several quarters.
Please follow and like us:
Short URL: http://www.africanexaminer.com/?p=19366