Fintiri Revokes Sale of Government Properties by Nyako Administration
Featured, Latest News, News, News From The State, Politics
Thursday, September 4th, 2014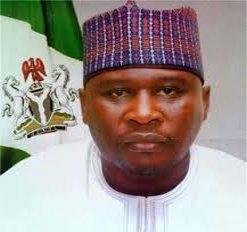 …Gives Occupants 7 Days Ultimatum Vacate Properties
Agabus Pwanagba
As part of efforts to correct anomalies perpetrated by the  administration of impeached Governor of Adamawa State, Murtala Nyako, Acting Governor Rt. Hon. Ahmadu Fintiri has revoked the sales of all government residential houses and lodges at Dougirei quarters in the State capital.
The houses and lodges were initially sold out by the ousted administration on owner-occupier scheme.
Commissioner Supervising the Ministry of Housing and Urban Development, Hon. Bashiru Ahmad gave the directive in a press statement made available to journalists in Yola.
Ahmad said, the acquisition of the properties by some officials of the immediate past administration was an act of illegality, as due process was not followed in the entire exercise.
"The State Executive Council has decided to revoke the purported sale which did not follow any due process and was done in total contravention of the existing law of the Owner-Occupier Scheme with effect from today.
According to the statement, houses at Dougirei are official residential buildings that were meant to house cabinet members, adding that the properties fall under the category of those that were not to be sold at any time.
"They are to remain as official quarters for serving commissioners who are to pay rents should they choose to reside in the quarters. This, therefore, foreclose the issue of free accommodation even for the serving commissioners. The statement maintained.
"Government viewed the sale of these quarters by the operatives of the past government to themselves at the value of N5 million as a criminal act which cannot be condoned by any responsible government.
"As we are all aware, the average cost of a virgin plot of land around that area goes to about N70 million much less a developed one. The statement queried.
The statement directed the occupants to vacate the houses within 7 days or face the full wrath of the law.
Please follow and like us:
Short URL: http://www.africanexaminer.com/?p=17021