Governor Elechi Fights Back Says Ebonyi Lawmakers Lack Power To Freeze LG Accounts
Latest News, News
Wednesday, April 22nd, 2015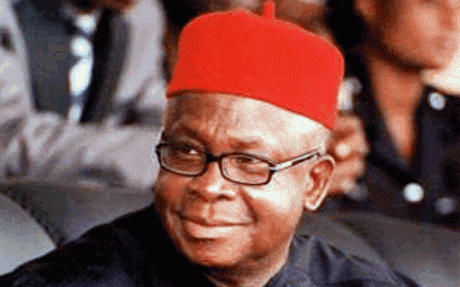 FROM IGNATIUS OKPARA, Abakaliki – Less than 24 hours the Ebonyi House of Assembly pronounced that it has frozen the State's council Areas accounts, Governor Martin Elechi has dismissed the action, arguing that the lawmakers lack such constitutional power.
Speaking Tuesday in Abakaliki, the Ebonyi state capital, the Chief Press Secretary CPS to the Governor, Dr. Onyekachi Eni, said powers such as freezing of local government accounts and stopping of allocation of shops at the international market, was vested on the executive arm of Government and not the legislature.
Besides, the Governor's Spokesman, further stated that only a court of law with competent jurisdiction could order the freezing of any account of government or persons, adding that the resolution of the House being outside the range of its powers, was ultra vires and without effect.
He therefore, urged the local governments and development centres to ignore the resolution and carry on with their lawful business of service delivery to the people.
On the sale of forms for allocation of stalls at the international market, the CPS, posited that the House lacked the powers to stop the sale of forms for allocation of the market, explaining that Governor Elechi's administration initiated the construction in 2009 and had invested N18.3 billion in the development of the state.
"The House of Assembly, apart from stalling the accessing of the loan from capital market, is now seeking to stop the state government from generating funds from the completed stalls in the market to invest in the uncompleted ones.
"We wonder whether the House is for the progress of the state or its retrogression.
"Ebonyi people and all persons of good will should judge for themselves." he stated.
Commenting on the alleged repeal of the codified Laws of Ebonyi State 2009, Dr, Eni said the draft report was forwarded to and passed by the House before it was signed into law by the Governor, adding that all these procedures were contained in a chapter of the codified law 2009, which has been in force since then.
"Apart from the fact that the House failed to follow appropriate procedures in seeking to repeal the law, we are also alarmed at the haste with which the House pursued the repeal at the first reading, second reading, committee consideration, third reading and repeal pronouncement were all done in less than two hours of the House' business."
"We, therefore, hold that the repeal is not procedural, it's unlawful and of no effect.
"Apart from the fact that the resolutions passed by the House have no force of law, we further note that there are pending suits before the federal High Court challenging the capacity and legality of the House to sit and conduct any business given the announced vacation of the seats of some members of the Assembly which reduces the number to less than 24 and rendered the House inoperable going by section 91 of the constitution of Nigeria."
Please follow and like us:
Short URL: http://www.africanexaminer.com/?p=23305