Governor Elechi Must Go –Ebonyi Speaker Insists
Featured, Latest News, News
Thursday, March 12th, 2015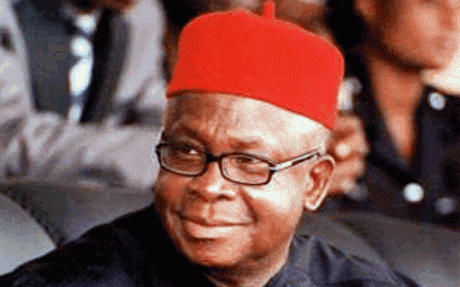 FROM IGNATIUS OKPARA, Abakaliki – Despite the back down of 7out of the15 members of the Ebonyi state House of Assembly that signed the impeachment notice against Governor Martin Elechi, the remaining eight PDP lawmakers, have vowed to go ahead with the process.
Speaker of the House, Chukwuma Nwanzuku, declared on Wednesday in Abakaliki, that the legislators would not back out of the impeachment plan, insisting that governor Elechi, must go.
He was reacting to reports that seven of its members have backed out of the impeachment move.
African Examiner reports that Minority Leader of the House and member of the opposition All progress Congress APC, Enyi C. Enyi at a press briefing on Tuesday in Enugu, had distanced themselves from the moves to impeach the speaker.
The Speaker maintained that all the Peoples Democratic Party PDP members of the House were still determined to sack Elechi.
Nwanzuku, who reacted via a statement said, "We wish to re-assure Ebonyians that the PDP members of Ebonyi State House of Assembly are intact, and so should disregard the publication/rumors making the rounds that seven honorable members have withdrawn from the on-going constitutional exercise of the honorable House.
"We, the PDP members of Ebonyi State House of Assembly, do state that we are very much committed in our constitutional responsibility for good governance, rule of law, well being of our people, respect for the dignity of man and separation of powers amongst the three arms of government in our state.
"The assignment we have embarked upon is not self serving, but to protect the commonwealth of our dear Ebonyi State so as to reduce the increasing phenomenon of impoverishment of our people in the midst of plenty.
"Today, many of our children are out of school, civil servants are on strike and the rate of unemployment is very high in the state, yet local government funds are diverted at will to private accounts, which have worsened in the last six months" it stated
Please follow and like us:
Short URL: http://www.africanexaminer.com/?p=22662