Human Rights Group Condemns "Harassment" Of Former NSA, Sambo Dasuki
Featured, Latest News
Friday, July 17th, 2015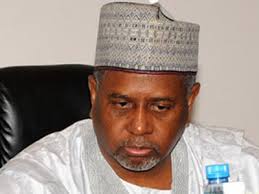 A pro-Democracy Non-governmental organisation -HUMAN RIGHTS WRITERS ASSOCIATION OF NIGERIA  (HURIWA ) has condemned without reservations the reported invasion and gestapo operations at the homes of the immediate past National Security Adviser Colonel Sambo Dasuki  (rtd) on the alleged directives from the Presidency.
In a statement by the National Coordinator Comrade Emmanuel Onwubiko and the National Media affairs Director Miss Zainab Yusuf, HURIWA, has called on President Muhammadu Buhari to respect the democratic and civilised tenets of principle of rule of law and follow due process and constitutional format in seeking to redress any alleged abuse of authority by any top government officials in the immediate past administration.
HURIWA has therefore called on the National Assembly to stop the incessant quarrels and unwarranted adjournments to begin the real business of providing effective checks and balances to the Executive and Judicial arms of government to prevent Nigeria from skidding into dictatorship and tyranny.
Besides, the Rights group has tasked the current Nigerian civilian government to abide by the avowed commitments it made to Nigerians to respect the constitutionally guaranteed fundamental human rights of all Nigerians including members of the past democratic dispensation.
The Executive Arm of government cannot use brute force to seek to arrest any perceived opponents or persons allegedly in conflict with the law.
"The Nigerian Constitution even recognised accused persons facing normal prosecution as innocent in the eye of the law until otherwise ruled by the competent court of law.
"President Buhari as a good democrat that he told us he has become must come to terms with global best  democratic practices and let the law take its normal course without resorting to self help or gestapo type military arrests of political opponents". The group advised
Please follow and like us:
Short URL: http://www.africanexaminer.com/?p=24448