I'm Yet To Decamp to PDP -Fani-Kayode
Featured, Latest News, News
Thursday, April 10th, 2014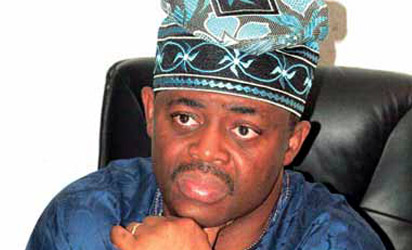 Former Aviation Minister, Chief Femi Fani-Kayode has said he would not leave anyone in doubt in the event of his resolve to decamp from the All Peoples Congress (APC) into the Peoples Democratic Party (PDP)
The former Minister said this to dispel news reports that he had dumped the APC to join the PDP.
According to Fani-Kayode, his meeting with President Goodluck Jonathan never meant that he had left APC to join the PDP, stating that he visited the President just like any other Nigerian.
Speculations on Fani Kayode's decampment into PDP became rife with the manner he criticised the alleged plan by the APC to impose a muslim-muslim ticket for the 2015 presidential election.
He had in different write ups on the matter warned the APC never to take such a decision which according to him would wreak the party if the leadership insisted on having its way on the matter.
He however expressed hope that the APC would see clarify into the aversion of some of its members to its proposed muslim-muslim ticket and then "Assure us all that they will do no such thing.
According to him, the silence by the APC's leadership on the matter and its refusal to rule it out the muslim-muslim option "Is simply fuelling more speculation and dissent from within. When I say this I am speaking for many within the party leadership who have chosen to remain silent for obvious reasons.
On his reported decampment from APC, Fani Kayode stressed, "I have not left the APC. If I ever choose to leave the party I will let the Nigerian public know and I will give my reasons. This has not happened.
"I was at the Villa the other day and what transpired there has been the subject of much online speculation. What I said to the media whilst there was very clear and I chose my words very carefully. Let those that are interested read those words in the newspapers rather than speculate. Other than that I will say no more on this matter until I am ready to do so.
"A few days ago all the APC governors from the south west were in the State House where they held a meeting with President Goodluck Jonathan. What they discussed has not been made public until now. Does that make them PDP governors? The Presidency belongs to every Nigerian irrespective of religious and political persuasions.
"Again General Buhari was recently honoured by the same President Jonathan during the centenary celebration which the APC did not support. Does that mean he has joined the PDP?
"Again the ongoing Federal Government confab has some APC chieftains participating in it despite the fact that the party is against it. Does that mean that they have left the APC? People should get real and stop speculating.
"Meanwhile Biodun Ishola Ladepo wrote "If I were Femi Fani-Kayode and my party planned to field a Muslim/Muslim presidential ticket, especially in the age of Boko Haram, I would bolt faster than Hussein Bolt". I am glad that someone is seeing things clearly".
Newspot
Please follow and like us:
Short URL: http://www.africanexaminer.com/?p=9961