Interview: My Re-Election Is a Call to Greater Service – Dickson
Featured, Latest News, News
Wednesday, February 10th, 2016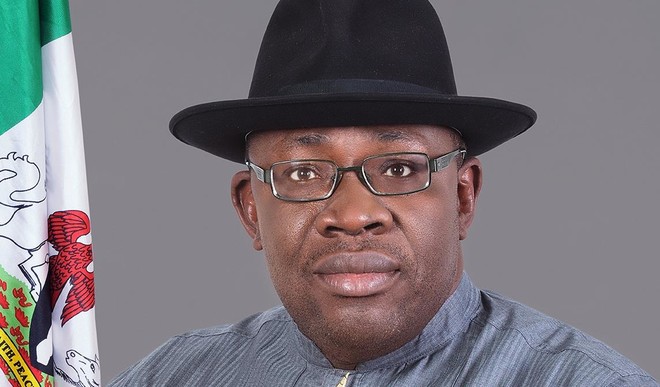 Governor Seriake Dickson of Bayelsa state was recently re-elected for another four more years in office. The governor who campaigned rigorously throughout the state on record of his achievements in first term, spoke on a radio show in Yenagoa to dedicate his re-election to a greater call to service to his people. He also spoke on a wide range of issues bothering on the development of the state.
 Below is excerpt of the governor's interview.
 Question:  Now that the governorship election has been contested and won, we want to recall that several promises were made during your campaign in the course of your Community to Community tour. People were elated because of the promises and now on the eve of your inauguration for a second term in office can those promises be kept especially given the state of finances? Are there areas you will give particular attention in terms of diversifying from a monocultural economy?
Governor Dickson: First of all,  I want to use this opportunity, this being our first media interaction in 2016 to thank all of you who have been part of this public engagement mechanism that was set up last year. I want to use this opportunity to thank the good and wonderful people of Bayelsa and the Ijaw nation as well as all Nigerians of goodwill  everywhere who followed developments in this state and who prayed that the right thing would be done and prayed for peace and stability in our state and our region.
I know that when the results were declared many people in  many states and cities erupted in spontaneous jubilation. The results didn't  give a reason for our people in this state alone to celebrate. Of course in Bayelsa, it was spontaneous celebration everywhere but beyond Bayelsa, in Rivers, Delta and Akwa Ibom, it was the same celebration and all across Nigeria, across political parties, religious divides, non-governmental organizations, diplomatic community.  I want to thank everybody.
But most especially, I want to thank the voters of Bayelsa; the youths and women of this state who stood up for what is right. This victory belongs to you. In the campaign, I said this election was more about you and your future and you came out and protected your interest and future and today we have won.  Today, we all move around Nigeria and everybody can move about with our heads high. We give God the glory because it wasn't by our power  and that is why the Holy book avers, 'Who says a thing and it cometh to pass if God has not spoken and commanded.'
Some trust in chariots and horses but we have always trusted in God and the people. This election was an election like no other. In fact, people called me and said this election was more than a presidential contest. This election was an election where our state was under siege. Some said this election was like a war against innocent people who just wanted to vote. In spite of all of this, you stood firm. When we told them that in Southern Ijaw, the other party was not on ground because they just had one or two militants that they had armed, people thought it was just political propaganda. For me, this is a call to greater service.
And in the next 4 years, you will see a consolidation of security, stability, development and prosperity in all facets. Luckily, in the last 4 years, we have laid a solid foundation. No state government can award the number of contracts that we have awarded and executed because right now, no state government will have the money to do the type of things that we invested in in the past 4 years because the money is simply not there and it has even lost value. If we were to do some of those projects, it would cost twice the amount we spent. Thus  we took the right decision at that time and made those difficult investments.  All we need to do is to build on this and that is why for the next four years we tagged ourselves 'A Government of Consolidation'.Most of our boarding schools that will take off this year are 70 to 90 per cent complete. Some have been completed already. The Diagnostic Centre has been completed and when the hospitals in all the local governments are finished, then the health insurance will kick in so that wherever our people reside, they will have access to affordable healthcare. The same thing goes for education. The senatorial roads are on. Within available resources, we intend to take these roads further beyond where they are. We will do very little new projects because of the financial situation.
In this term, you are going to see greater emphasis on community-driven agricultural initiatives targeted at the rural dwellers especially women and young people; targeted at building entrepreneurship. In the next 4 years, you are going to see greater investments in power generation and distribution; you are going to see tied to that project, the industrial development park. We now want to make Bayelsa go into production. We are also going to complete the airport and then work towards the development of the deep-sea port with our partners. If we have the  money we will sustain the ongoing work on  the road linking Ekeremor and also see what we can do about the road to Brass.
On security in the months leading to the general election, the APC leaders deliberately undermined the security of this state because they knew that in a free and fair election, they would not stand a chance. I was alerting everybody about the arms build up and  that they were preparing for a war to seize the election.
We have already started unveiling our comprehensive strategy of returning Bayelsa to its days of peace. We have  announced a ban on 200 horsepower engine boats without appropriate authorization. For now,only  security personnel will  use such boats because those are the boats that kidnappers use. Kidnapping is on the rise, which is a fall out of the deliberate compromise of our security. Let me assure Bayelsans that by the time we re- invigorate our security programme and make more investments, all the criminals will leave Bayelsa again for their own good. I am determined to ensure there are no more cases of kidnapping and pipeline vandalization and violence in Bayelsa. We met a situation that was worse: cult related violence but we managed to put the situation under control. But with the way they did their primaries, with the way our party lost power at the centre, these criminals now have hope and were given false belief that if they are APC and  kill in the name of APC and they pretend to do whatever they are doing under the guise of supporting their candidate, they would be protected. And I  know those who have been out to compromise security operatives . But now, this government of consolidation will flush out all criminals.  I want to use this opportunity to call on all Bayelsans to go about their lawful businesses for  we are on top of the situation. We know those who are kidnapping and their sponsors, who are sacking communities and destroying houses. We have all their records. They have had their day; now the law will have its day and the law will surely catch up with each and every one of them. Whether they are living in Yenagoa or Abuja; or whether they are traditional rulers or APC or PDP, we will go after them at the right time. And i want to use this opportunity to call on media outfits not to allow themselves to be used to propagate crime and criminality. We are witnessing a trend in Bayelsa where people kidnap and the media will now be used to put pressure for ransom to be paid. My policy on crime is known: zero tolerance. No ransom payment in this state. Let me make it clear to all those who are committing acts of criminality in this state, we know you all. There is no kidnapping that has taken place in the state that the government and security agencies do not know those who have done it. Just know that very soon, they will hear from us and that is a promise.
 Q: Following your open invitation to Chief Timipre Sylva to join you in building the state, are there considerations to reintegrate APC defectors into the PDP in spite of APC's plan to challenge your victory at the Election Petition Tribunal?
Governor Dickson::  have not been served but  I have been told that my party has been served a watery petition that has nothing in it that is germane to  an election that was conducted in the full glare of the media and the entire world where the APC candidate lost in 7 out of 8 local government areas even with the so called federal might and intimidation. I am very surprised that instead of congratulating me and working with us to rebuild our state to move forward as a people, he is misleading others to think that the Judiciary can be manipulated to see how they can upturn the popular will of the people. I believe that the recent judgment of the Supreme Court and the recent posture of the Supreme Court should make people to think twice. The message from the Judiciary now is that those who want to be governors should win popular votes from their people. The message is that you cannot lose election,  rejected by your people at the polls and then come through the back door to hoodwink the Judiciary to give you a mandate that your people never gave you. If that message is lost on the Bayelsa APC and their candidate who is going about compromising national institutions then it's unfortunate. Getting somebody to swear to a false affidavit; those are the things that you do in decent societies and they lead you straight to jail. But in this country, we allow criminals to develop wings and think that they are above the law. What does he want to say? That he won the election and that is the story he wants the Bayelsa or Nigerian public or the Judiciary to believe. It could have been more honourable to acknowledge defeat and apologize to Bayelsans for the violence that he and his supporters inflicted on our people. In 2011/2012,  I  went to all the courts including the Supreme Court against him and other parties thrice.  With my background, I am not one that will shy away from a legal contest especially when the law and the facts and our people are on our side. But it doesn't  change my disposition of inviting the APC and their leaders to cooperate to propel our state forward because in the end, it is not about APC or PDP; we are all Bayelsans. This is our state.   That is why in my politics, I try not to hurt or bring down anybody. No to violence;  I can't see myself planning to hack down anybody or plan to kidnap anybody because of politics. Again, I am aware that not all leaders of the APC believe in this ill-fated journey in which  Sylva has led his party to a disastrous end and misled them with lies. Unfortunately some of them are still believing and following him sheepishly.
Q:  There is apprehension in some quarters that your administration is planning to reduce the size of the state workforce as a result of the global economic challenge and dwindling allocation from the Federation Account. How true is this? And secondly, during your first term in office, some persons complained that the number of your political appointees was quite high. Do you intend to reduce the number?
Governor Dickson: In the second term, we are not going to have a very high number of political appointees. I was advisedly generous with appointments; we spread appointments to everybody and everywhere.  That I felt was one way of touching as many people legitimately. My belief is that people in government should earn their legitimate salaries and allowances and then live their lives rather than engage in shady deals. I did this against the backdrop of a weak private sector and government being the major employer of labour in the state.  At the time I gave out these appointments, the economy was relatively better. i still had N2 to N3 billion every month after servicing bonds which we inherited. But it is also debatable whether this gesture really yielded the dividends it should have. But I know that majority of appointees did well. I had a committed team that ran a good race. In this second term, it is not practicable for me to have such a large number. On reduction of the workforce, I don't believe in that. I don't believe that we need to retrench workers because of the economic downturn. But there are discussions that we need to have with workers and stakeholders. We cannot be borrowing to pay salaries as we have been doing. For our work force minus political appointees, we need about N4 billion to pay salaries; the situation is not sustainable and realistic because of our development agenda. For the public service, there will be greater emphasis on professionalism. Civil servants in Bayelsa State must sit up from now on. They must shape up or ship out.I am going to sanitize the civil service. No civil servant in this state will be allowed to continue to be treacherous, unprofessional and disloyal to government. If any civil servant is found guilty of infraction of  civil service rules, of course, there would be swift and effective punishment. For that I wont bat an eyelid because I don't want a politicized civil service. Those who are not involved in payroll fraud, or deliberately undermining their ministries and superiors have no problem. There are a lot of things going on; people have their names in several vouchers, earning salaries above their grade level. All of those things are going to be corrected. I don't also believe that we should reduce the minimum wage but if our government is getting N3 or N4 billion and our wage bill is N4billion, then there should be a discussion. A lot of states are going to have crisis this year, even the Federal  Government will face crisis. Itt is important that the workforce in Bayelsa learn to appreciate these things before they jump here and there, instigated by failed politicians who couldn't win election but  know how to sponsor demonstrations of old pensioners that they couldn't pay when they were in office. I read in the newspapers that Shell is laying off thousands of workers, the same for banks. So we are in very trying times.
Q: During your first term you had a very ambitious dream of transforming Bayelsa into a mini Dubai. Is that dream still alive and secondly, during the elections there were some displaced persons in some communities. What is your government doing to resettle such persons?
 Governor Dickson: It is unfortunate that this ( displaced persons situation) happened but in most of the communities where it happened, particularly Peremabiri community, that was a post election crisis. There was some level of calm in the community during the election. But a day or two after the election, there was an attack by a renegade militant, ayoung man claiming to work for the APC, armed and protected by them who invaded his own community and killed people. As we speak the paramount ruler is in a critical condition. Let me make this very clear, nobody will be allowed to sack a community to impose a leader; nobody will be allowed to burn people's houses and exile people from their communities because nobody has a right to do that. The Peremabiri people who out of fear left their community will return because the security agents have assured me of their safety. I will personally visit Peremabiri soon and Bassambiri and other affected communities. I want to call on all those who may have issues that i will soon direct that an avenue be created so that they can raise their complaints to me. As a matter of fact, the Commissioner for Chieftaincy Affairs and Community Development has been mandated to take such complaints so that we can liaise with the security agencies to resolve their problems to enable them go back to their communities. So we don't have serious IDP problems. Bayelsa will continue to be the new Dubai because we have already laid the foundation. Rome was not built in a day. Dubai has been under construction for over 30 years. All I have done is to envision that dream and to lay the foundation for its realization and I  hope successive governments will also build on it moving forward.
Q: how do you intend to finance the 2016 appropriation bill.  Are you thinking of going to source for money?
 Governor Dickson: Our budget is very realistic. This is the least budget I  have submitted to the State Assembly and from all the reports I have been reading, that is the least budget by any  Niger Delta state and it's achievable. We don't intend to borrow too much to finance it. Let's see how things develop and see how the year unwinds. The federal government has not been particularly helpful because of the unnecessary politicization. For example, the non release of the N1.2 billion bailout funds  approved for local governments that are owing salaries. The APC led Federal Government made sure that the money was not brought because of our governorship election. And in this state we are running government without touching local government allocation and because of the shortfall in the allocation of the councils, they are unable to pay salaries. They didn't approve the money for Bayelsa and Kogi states but I hear now that an APC governor has taken over in Kogi, they have started releasing funds for that state. That is the level Nigeria has descended to; everything is politics by the APC-led Federal Government. The PDP, which was in government for 16 years, never exhibited this level of brigandage. It is unfortunate. We also heard of an arrangement to give some money to all states. Oher states have got it but they denied us because they thought that I would use it for election. They didn't know that we didn't use money for the election because their candidate had more money from the sources that we would talk about one day.  We know some of the sources and yet they say they are fighting corruption.
Bayelsa's economy is robust. We are not a beggarly state; all we need do is to be more prudent. That is why I keep telling our people that they are in an era where they need to cut their coat according to their cloth, not according to their size. We need to show more understanding and people need to be more productive. In these 4 years, we are going to use the micro finance system to support our low-income earners particularly in the rural areas. I want to also use this opportunity to remind you all that my inauguration will be coming up on the 14th, which is Sunday this weekend. And you know that in the whole country, i am the only Valentine Governor. You know the spirit of love is stronger than the spirit of hate. With all the hatred, bad belle and propaganda that they imported into Bayelsa; official and unofficial jaguda, the spirit of Valentine conquered it all. And I want you all country people, particularly our loyal women and youths, leaders of communities who stood firm for the Ijaw nation to join me, your countryman Governor on the 14th and let us have a glorious Valentine inauguration and then we do a thanksgiving service at the stadium on Sunday. This day that some people say will not come, I, the Hon. Henry Seriake Dickson will mount the podium again and contrary to the designs of blinkered pundits and bad belle politicians who do not want peace and stability of this state, I will be mounting the podium again to the glory of God to take my oath of office to be Governor of this great state for the second term.
Please follow and like us:
Short URL: http://www.africanexaminer.com/?p=30085