IYM Presents Awards Of Excellence To Onu, Ekwueme, Nwabueze, Others For Selfless Service
Latest News, News
Tuesday, October 27th, 2015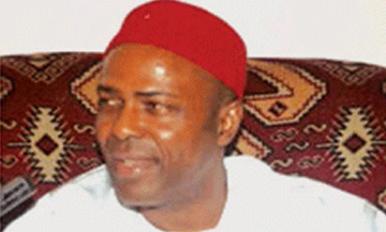 By IGNATIUS OKPARA, Enugu
In recognition of their contributions and selfless services to the Igbo nation, the influential Igbo Youth Movement (IYM) on Tuesday presented awards of excellence to some prominent Igbo leaders, amongst whom are ex- vice President, Dr. Alex Ekwueme,and Minister designate, Dr. Ogbonannya Onu.
Others are, foremost constitutional lawyer, Prof. Ben Nwabueze, renowned novelist and traditional ruler, Igwe Chukwuemeka Ike, as well as Nollywood icon, John Okafor, (Aka Mr. Ibu)
Presenting the awards to the Igbo leaders on Tuesday at the 16th National Convention of the organization in Enugu, its founder, Evangelist Elliot Uko, said IYM do not believe in leadership that is measured by acquisition of wealth rather, the contribution to development of one's fatherland.
The IYM boss, explained that the movement had promoted Igbo culture since 1999 when it was established,  adding that it encouraged students to take up Igbo language in their study.
He called on Nigerians to support the government of President Muhammadu Buhari in its effort to rid the country of the cankerworm of corruption.
Uko, expressed the support of the movement for those found guilty in the proper judiciary process to be jailed until they returned the stolen money.
The IYM President, stated that the theme of this year's annual convention " Ibuli Asusu Igbo" meaning, promoting Igbo language was carefully chosen to encourage and propagate the interest in Igbo language.
He said that IYM would continue to fight for true federalism which would restore confidence in the unity of Nigeria as well as give the citizenry a sense of belonging.
Uko said that the movement would also continue to support President Muhammadu Buhari's campaign against corruption and terrorism.
Speaking shortly after receiving the award, Dr. Onu, who applauded IYM for the recognition, said that the language of a people had a significant influence and shaped not only their identity, but also strengthened their participation in the development processes.
He however, lamented that the society had witnessed the erosion of cultural values over the years, noting that many of the things people did in the past that earned them respect and acclaim had unfortunately been discarded.
"Today, our society is faced with the danger that the Igbo language may not survive for long. It is sad that most of our children find it difficult to communicate in our native language. The attraction of foreign values has become almost an obsession that has weakened our self-confidence and injured our self-esteem.
"We cannot rediscover ourselves if we do not reclaim our cultural heritage. It has become important because a people without culture is a people without self-confidence. If a people lack self-confidence then such a people lose the will, determination and drive to successfully engage the development process in the pursuit of the common good.
"I wish to assure you all that the APC led federal government of President Buhari will initiate visionary and sustained efforts to help Nigerians rediscover their rich past. In doing so, such efforts will be guided by the knowledge that cultural reawakening is an important tool in the economic, social and political development of our beloved country."
In his remarks, Ekwueme, expressed happiness and encouraged the young ones to embrace Igbo language so that it should not be swept under the carpet.
The former Number two citizen, advised parents to re-introduce Igbo speaking in their various home as it would play a role in their children's way of life.
Our Correspondent reports that the event also featured a debate and quiz competition on igbo language, sponsored by immediate past Governor of Anambra State, Mr. Peter Obi, among secondary schools students.
In the competition, Miss Ndidiamaka Ezugwu of Government Secondary School, Enugu took the first position to smile home with N50,000 while Miss Njideka Jideonwu of Trans-Ekulu Girls' Secondary School placed second to pocket N30,000.
IYM, honored Ekwueme with the award of visionary leader for inspiring leadership to father land, while Ike was given an award of role model for exemplary and consolidated leadership.
Onu, was recognised with the award of decency in politics and honorable in perseverance, just as Okafor, was given an award of role model for commitment and inspiring dedication.
Please follow and like us:
Short URL: http://www.africanexaminer.com/?p=26782