Jang To Jonathan: Arrest Those Making Inflammatory Statement Against Your Government
Latest News, News, News From The State
Saturday, May 24th, 2014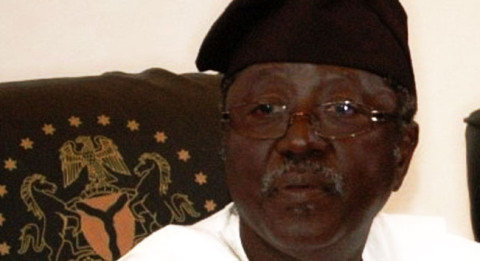 Agabus Pwanagba
Governor Jonah Jang of Plateau State has called on President Goodluck Jonathan to arrest those making inflamatory statements about the country, especially those saying "they will make the nation ungovernable".
Governor Jang made the statement during a visit to the scene of the twin bomb blast that rocked Jos on Tuesday.
Jang, who was just returning from a foreign trip said, "When we are in a situation like this for goodness sake, we politicians should stop using everything to try to gain advantage. There are times for serious business.
"Because some people think politics is like a game, it's not a serious business.
He lamented that, "We are just treating our President as if he is an ordinary person.
"We are all sad about the disappearance of these girls. Everybody is working with the international community to locate where these girls are. Then some people are matching to the Villa, you want the President to go to Chibok, to go into the bush and go and start looking for the girls? He asked.
"Some of these characters have been in government before, we know their performances. We know what they did in government and today they are angels. Because they are not in government and it happened during our time. I think this nonsense should stop.
The Governor further stated that as Nigerians, we are suppose to put heads together to find a way out to the problems bedeviling the nation.
"We are all praying and not only praying, we are taking action. If they want to protest, let them go to Chibok, let them go and enter the bush. I think enough is enough.
Jang stressed that, "Some of them have international connections everywhere that they can also try to get Information to help locate where these girls are.
"And some of them have Information on how we can stop these things. Some of them are agents, because they are sponsors of these people. We know them. You people interview them and they talk rubbish in the Media.
"They said they will make this country ungovernable how? Let Nigerians challenge these people. There is nobody who is above the law of his country.
"We've seen Mubarrak being jailed, Israel has just jailed its former prime minister. Whatever position you've held in this country, that does not make you and untouchable person in this country.
"If you go against the law of this country you should be dealt with and I'm calling upon the President , he should take up on these people.
"They have said they will make this country ungovernable, now they are turning around to say Boko Haram, who brought the Boko Haram?
"I still want to take this opportunity to plead with our people, we are in an emergency in the whole country. We are in a war situation, we are fighting a war in this country. Jang said.
He said those that planted the twin bombs that exploded last Tuesday in Jos,  must have been harboured by someone, "when they come to a place, they don't stay on trees, they stay with people.
"They bring in these bombs not as bombs, they bring the materials and assemble them in one of our houses. Why is it not possible for people to report such cases? He asked.
The governor lamented that people have not been security conscious despite years of security challenges in several parts of the country.
He called on the people of the State to be suspicious of strange things around them not only cars.
Jang assured that the affected area will be cleared as the place is not a market.
The Governor commiserated with the victims of the blast and further assured that government will pay their medical bills.
Please follow and like us:
Short URL: http://www.africanexaminer.com/?p=11724