Jonathan Has Done A Lot In the Fight Against Corruption –Akpabio
Featured, Latest News, News, Nigeria 2015 Election
Tuesday, March 10th, 2015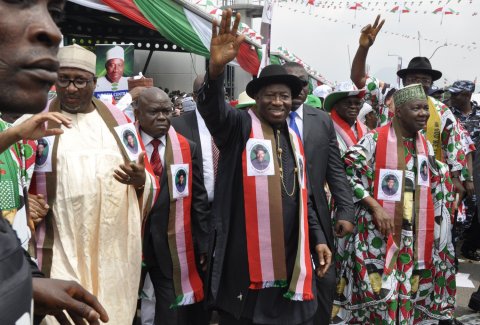 As political commentators continue to attack President Goodluck Jonathan poor anti-corruption record, the Chairman of the PDP Governors' Forum and Governor of Akwa Ibom state, Godswill Akpabio has argued that the president has actually done a lot in the fight against corruption.
Governor Akpabio stated this on Tuesday in Lagos at a media interaction.
The governor further criticized the Presidential candidate of the President All Progressive Congress for wanting to use 50 years-old tactic when people are being thrown into jail, to fight corruption in modern day Nigeria.
His words:
"we abhor corruption. PDP wants a corruption-free Nigeria. It is important to note that the PDP has done a lot in the fight against corruption since the coming of democracy, particularly under the administration of President Goodluck Jonathan.
"But, we abhor the politicization of corruption by military veterans. We know what Buhari did after he indicted our respected leaders like Alhaji Shehu Shagari, Dr Alex Ekwueme and others of corruption. These military veterans and their cohorts are today still trying to use the same old trick to hoodwink our people.
"Today, General Buhari, like in 1983, is posing as an anti-corruption crusader, even when surrounded by people of questionable means, all in an effort to cajole the electorate ahead of the forthcoming election. Interestingly, the party that is parroting anti-corruption slogans epitomizes corruption in all its ramifications."
Akpabio also lamented that the 3 poorest states in the country are APC states adding that such poor performance of the state treasury is responsible to the emergence of the dreaded Boko Haram insurgency.
"A recent poverty index shows that Zamfara and Yobe states are about the poorest in the country. And these are states that have never been governed by the PDP.
"The other state in the same bracket is Borno. Suffice to state that there is a correlation between poverty and insurgency in that part of the country.
"Therefore, APC's misrule in those states must have been contributory factor to the insurgency that President Jonathan is valiantly confronting head on.
If the APC elements governing these states provided education and built Almajiri schools like President Jonathan has done, the security challenges in that part of the country would not have arisen." Akpabio added.
Please follow and like us:
Short URL: http://www.africanexaminer.com/?p=22641