Jonathan Launches 64–Page ePassport; Says New Document Will Boost Country's Image
Featured, Latest News, News, Uncategorized
Wednesday, July 30th, 2014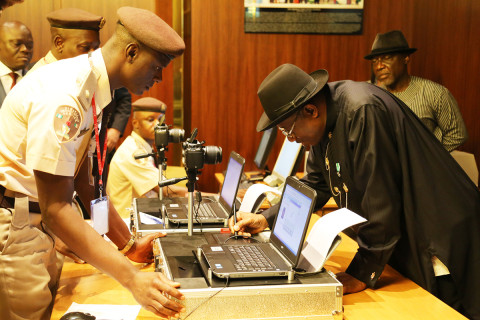 President Goodluck Jonathan has launched a 64-page electronic passport, stating that the key issue about the new travel document was about good image and security.
The President who performed the official launch during the weekly Federal Executive Council Meeting stated he was always sympathetic with frequent Nigerian travelers who compulsorily and repeatedly change their passports.
Mr. President who declared that the new e–Passport has put the country in a yet another good pedestal stated: "The key thing is for us to have a robust relationship with key countries so that some of these frequent travelers may not need visas. That'll really help us One thing again is how Nigerians can get passport easily, especially those living outside this country. When I travel, there is this complaint about how to get the Nigerian passport, not necessarily the issue of 64-page passport, but how do they get passport. So, the ministry must look into this".
In his remarks ahead of the formal launch, the Interior Minister, Comrade Abba Moro disclosed that the new passport's main objective was to boost the national integrity and the image of the Nigerian travelers in every part of the world.
Similarly, the Nigeria Immigration Service (NIS), Comptroller-General Mr. David Parradang disclosed that the application fee for the new passport was N20, 000 while the process would last within three days.
Paradang added that the processing fee for applicants below the age of18 was N8, 750 while applicants between 18 and 60 would pay N15, 000. The applicants of 60 years and above would however pay, N8, 750.
The change of data/loss of e-passport Paradang announced would attract re – processing fee of N20, 000 while altering of data on it due to marriage, divorce or death would attract surcharge of N8, 750.
In the main time, President Jonathan who asked Nigerians to always be wary of their actions and utterances tasked (NIS) officials to always be courteous when dealing with visitors in the country's airports for good image.
"The issue of the image of the country is what we'll all work for, both people in government, the media and civil society. I always say that when people continue to paint their country with all kinds of colours, that's the way they'll associate those colours with your green passport. I want a situation where you travel to another country and you raise your green passport, people will appreciate you and not when you raise your green passport, people will begin to think your green passport signifies some suspicious character. We're not helping ourselves when we paint ourselves the colours that we're not supposed to bear", President Jonathan emphasized.
Please follow and like us:
Short URL: http://www.africanexaminer.com/?p=15320