Jonathan, Suswam Hail Professor Hagher's New Book "Diverse But Not Broken"
education, Latest News, News
Friday, November 7th, 2014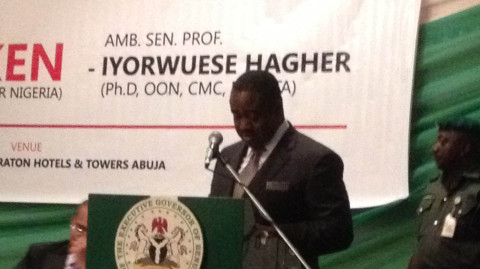 It was harvest of encomiums and commendations at the launching of a book written by the Nigeria's former High Commissioner to Canada, Prof. Iyorwuese Hagher.
President Goodluck Jonathan said Nigeria shall never break despite political and security challenges noting that this is the time that Nigerians need peace and political understanding best in order to achieve greater development.
Represented by his Chief of Staff, Mr. Jones Arogbofa, the president lauded the efforts of the author, Ambassador Iyorwuese Hagher even as he recommended the book for all and sundry.
While on his part, governor of Benue state, Dr. Gabriel Suswam noted that the book would not have come at the better when Nigeria will be conducting a critical general election next year.
On behalf of the state government, Suswam bought 100 copies of the book for N10 million and ordered that the book be distributed among universities and polytechnics in the state.
Please follow and like us:
Short URL: http://www.africanexaminer.com/?p=19455